Every startup and small business owner needs to prepare business documents. An invoice is one of the most important documents in a business deal. This handpicked free Microsoft excel invoice template will help you to quickly prepare and print invoices on your own. You will not need any extra software other than Microsoft Excel to prepare your invoice.
What is an excel invoice template?
Invoices are the summary of a business deal, where the seller gives the detail of sold product or service and the amount to be paid by the purchaser. Business details such as addresses and delivery location are mentioned in the invoice along with the payment terms.
Free excel invoice templates are a budget-friendly solution for service companies, consultants, and freelancers. what you need. These templates have ready-made formatting of invoice data fields. You just have to edit and enter your invoice details. You can print or create a PDF version of the invoice.
How can you create an excel invoice template?
You can create a free invoice template using an excel file on your own. But, you don't have to bother as lots of free invoice templates are available to download on the internet. The easiest way to get a free microsoft excel invoice template is inside excel itself.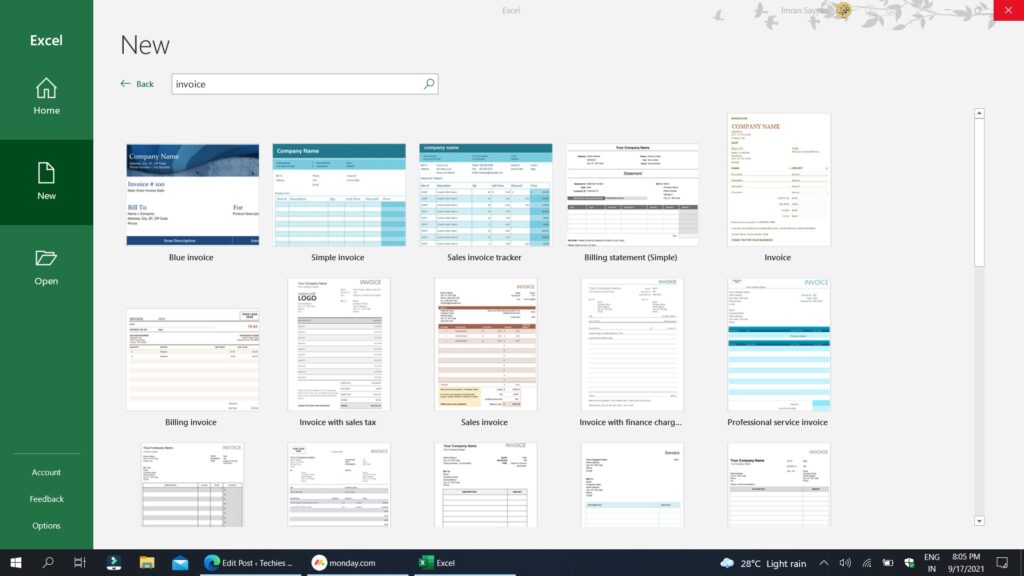 Open new excel ( File->New), here you have to search "invoice" as shown in the above screenshot. Wow… lots of free invoice templates are available in the Microsoft template gallery. Just click on anyone you need. Then edit the template for your business details. The same template gallery is available on the Microsoft templates.
Where to download a free Microsoft excel invoice template?
Other than free Microsoft templates, there are lots of websites that offer free downloadable excel invoice templates. Some of them are fully editable and some are partial free versions. Here is the list of top picks,
Which is the best free invoice template?
One best invoice template can not fit everyone's requirements. But, many of them can be configured as per your business need. Following top picks from wise.com is one of the best excel invoice templates.
Preview : Free Excel Invoice Template-1
Preview : Free Excel Invoice Template-2
Preview : Free Excel Invoice Template-3
Conclusion
If you are running a startup business or a small business and want to save money and time on invoicing. These free downloadable excel templates from wise.com are for you. It is the best alternative to excel or ms word-based invoice templates.