Please note that, you can't install or enable Active Directory in Windows 11 computers that are running Home or Standard editions. It can be installed only on Professional or Enterprise editions of the Windows 11 operating system.
Remote Server Administration Tools (RSAT) for Windows
Remote Server Administration Tools (RSAT) is windows server administration tool. It enables IT server administrators to remotely manage Windows Server from a computer running Windows Vista or later. It is user do manage and work on user roles and functions in windows server. It was first time introduced in Windows Server 2008 R2.
It is comes in Windows 11 as additional feature. RSAT in Windows 11 allows windows server administrators to run snap-ins and tools on a remote server to manage features, roles and role services. It includes tools for cluster-aware updating, Group Policy management and Hyper-V management, as well as the Best Practices Analyzer.
From Windows 10 Oct-2018 Update, RSAT tool is included as a set of Features on Demand in Windows 10 itself. And continued in Windows 11 as aditional feature.
Active Directory RSAT feature pack includes
1. Server Manager,
2. Microsoft Management Console (MMC) snap-ins,
3. Consoles,
4. Windows PowerShell cmdlets and providers,
5. and some command-line tools for managing roles and features that run on Windows Server.
The Microsoft Management Console (MMC) with RSAT enables user to use snap-ins. It is an administrative tools which allow you to administer computers, services, system components, and networks remotely.
A powershell cmdlet which is pronounced as command-let — is a small, lightweight command that is used in the Windows PowerShell environment. A cmdlet typically exists as a small script that performs a single specific function such as coping files and changing directories. In RSAT cmdlet environment you can perform such tasks remotely on server.
You cant use it to manage local client computers. You must specify server to manage in it. Before installing active directory RSAT on computer , be sure your system meet the requirements.
Following are the basic requirements to enable active directory feature.
You must be running a full (RTM) release of windows 11 operating system.
Installing cracked or hacked version on unsupported device is violation of Windows product end user licence agreement.
RSAT for Windows 11 cannot be installed on any versions of the Windows Server operating system.
If any, all previous versions should be removed first.
Installing RSAT tools for windows 11
Installing the RSAT Tools for Windows 11 is slightly different from earlier versions of windows. RSAT tool is now part of the Windows operating system , hence it can be installed as an additional features from apps setting. To install RSAT in windows 11,
Step 1: go to Start -> Settings, click Apps, and then click Optional features.
Step 2: then click on View features under "Add an optional feature" setting
Step 3: then search for "RSAT" in feature list, then and click on next after selecting it as shown in following screen shot.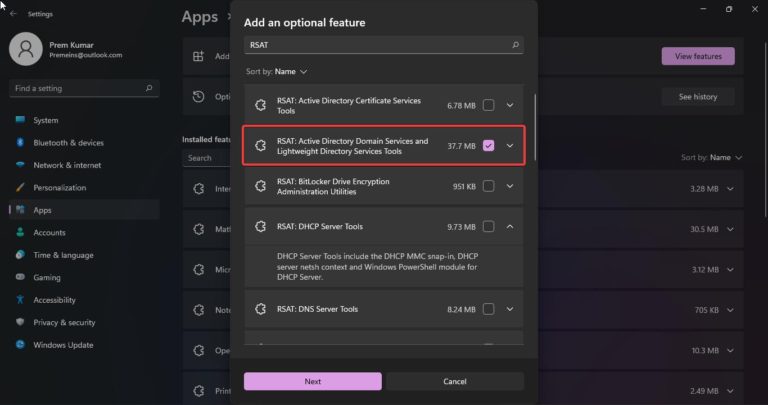 It will start download process. Feature installation size is of nearly 40 MB which will finish in few secounds depends on internet speed. Once finished, this feature is now part of your opereting system. And, in from same setting location you can remove it later if wanted to.
After installation you can find installed RSAT from Start Menu > All apps > Windows tools.