Just purchased a new BSNL sim and don't know how to find your number? Don't worry; you only have to dial *222# USSD code from your mobile. It will return you an alert message with your 10 digit number. Since this method is currently working and very easy, you don't have to look for another way
Bharat Sanchar Nigam Limited is one of the top landline and mobile service providers in India. This government-backed mobile operator has a large customer base. Lots of new customers are joining or porting to the BSNL network. And, so when they join, they don't know how to check their mobile no.
Table of Contents
USSD Code
Every network service provider supports USSD (Unstructured Supplementary Service Data). BSNL is not an exception to this. This service is used to access menu-driven mobile operator services. This includes balance checking, top-up recharge, changing user preference, and activating or deactivating value-added services (VAS). And now, many mobile service providers released their own USSD code to check mobile numbers.
How to find a BSNL sim mobile number?
You can find BSNL number either by dialing the USSD code *222# or by giving missed call to another known contact. Here are steps for checking your contact no,
Fing using USSD code
Step-1: Go to mobile number dialer
Step-2: Press *222# and Dial
Step-3: Wait for the response message, your mobile number will appear on the smartphone screen.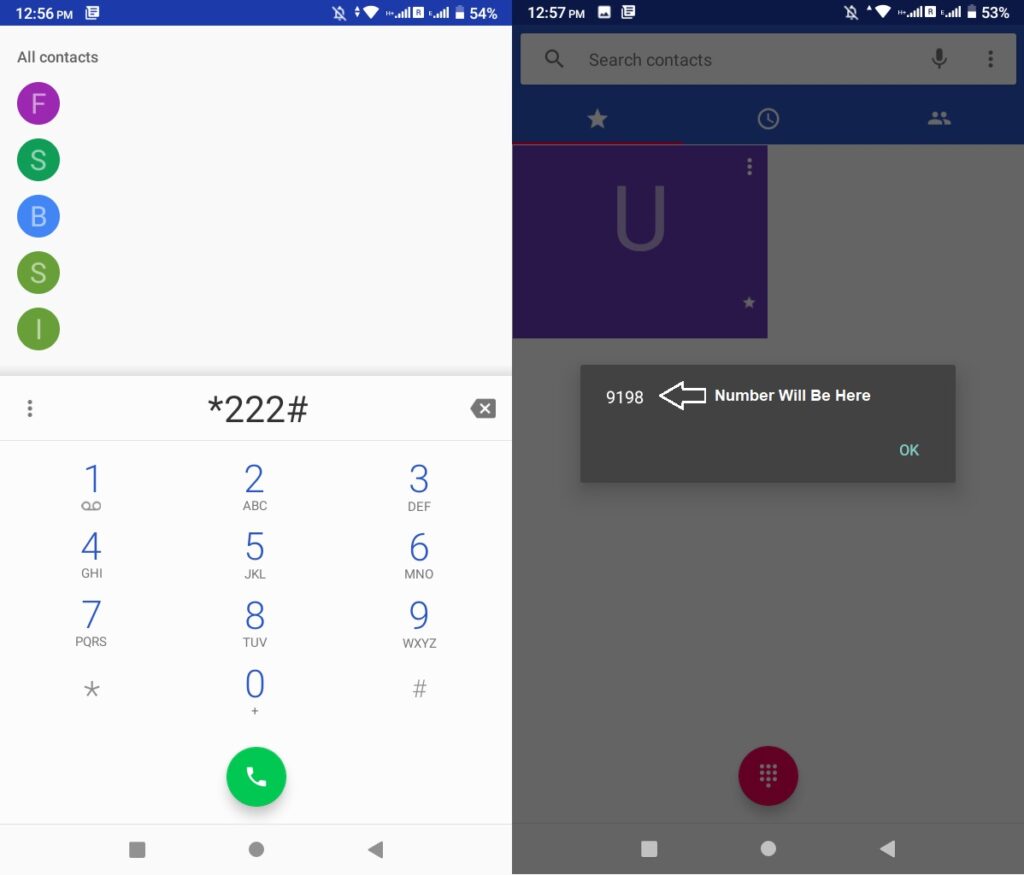 Find by giving missed call
Step-1: Make sure you have a balance (check using *123*1#)
Step-2: Dial your friends/family members known contact.
Step-3: Waite for the call, when received note down the number displayed on screen.
When all options are tried and still you don't get any success, then only way to solve this issue is by visiting nearest service centre. To find nearest service center or office search " BSNL office near me" in Google search. It will list nearest office. Please note that when you visit office, they may ask for identity proof of the sim card owner.
FAQ
How do I check my own phone number?
There are several ways to know your contact no.
1. Check the new Simcard packaging envelope or card, it contains a mobile number.
2. Dial USSD code, for example, *222# for BSNL and *199# for Vi.
3. Call on your friend's number
4. From device setting: On Android, the most common path to finding it is: Settings > About phone/device > Status/phone identity > Network
5. Last option after trying all of the above solutions, please visit the service center outlet if you are not able to find using above methods.
How can I know my BSNL number is still active?
Dial the USSD code *124# from your sim and you will receive an instant SMS from the service provider stating the details of your subscription balance and also validity.
What is the validity of BSNL sim expiry ?
Validity starts from the date of last recharge you have done. If recharge is not done within 15 days of plan expiry you have additional grace period of 60 days. After that your sim will stop getting signal.
Conclusion
Best way to remember your own mobile number is by creating a contact immediately after purchase. Always save your own and important contacts on SIM memory so changing your smartphone will not lose your important contacts. Otherwise, look for a supported USSD codes for the same.