Free Editable Map of Africa PPT Template
Here is the free editable PowerPoint template of Africa. This PowerPoint template file contains only one slide of the Africa map. The PPT file is in dark mode and includes the country's names. You can also change the color of a specific country. Africa map ppt slide looks as in the following screenshot,
1

Map of Africa map PPT template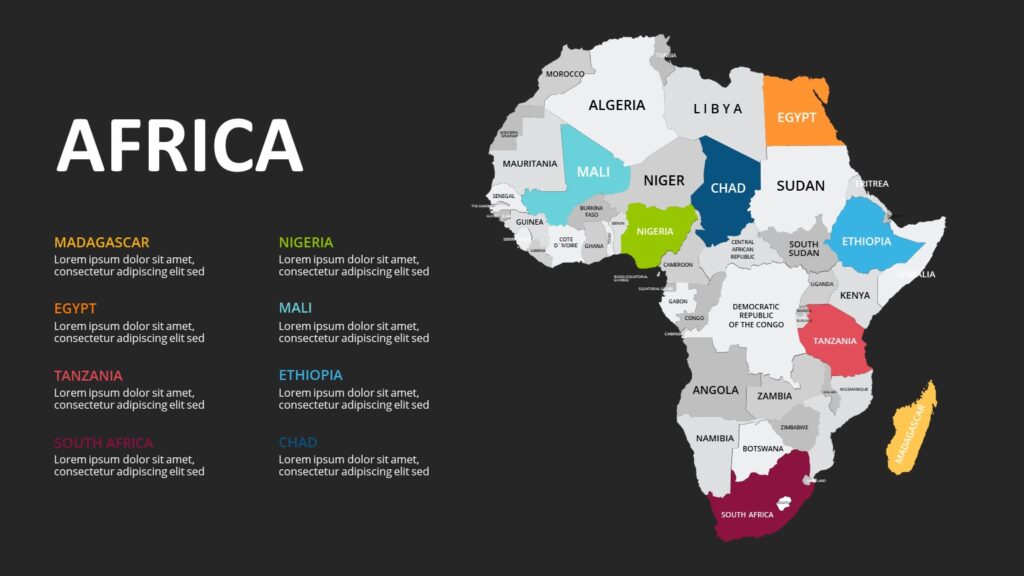 Widescreen Preview (16:9)
Africa map with countries PowerPoint template will provide an overall idea about the "dark continent". Use this editable map of Africa PPT template for your infographic information, to visualize geographical data, to locate offices or some specific places, sales territories, to show paths, travel routes, etc.
This Africa map PowerPoint template is created for business professionals and teachers.
The business professionals can present their business expansion programs and future market reach here.
Similarly, the teachers can present diverse cultures and ways of life that exist in different countries like Nigeria, Kenya, Uganda, Egypt, Morocco Ethiopia, and so on.
Some quick facts about Africa to consider in your next presentation.
Africa is the world's second-largest continent.
After Asia, it is the second populous continent as well.
It is the largest diversity of ethnicities, cultures, and languages.
Africa is resourceful, but facing too many economic and socio-political problems.
2

This 'Africa Editable PowerPoint Map' features
Unique slide
Dark layout
Full editable template with country name
Latest PPTX file format
Can set color to country
Each country is individual object
Standard (4:3) and Widescreen (16:9) aspect ratio
Counttry explaination box ready