Best Audio Editor Ever for Home User- WavePad Sound Editor.
Many computer user always needs some Best Audio Editor tools to work with their audio files such as Recordings, Songs , Ringtone etc
Generally required operations are
Cutting, Splitting, Joining
Mixing
Amplifying Volume
Noise Reduction
Audio format conversion ie *.wav to MP3
Recording, Voice changing, bitrate/quality modification
Fade In/Out and other effect
like that many professional features are also required.
but, when it time comes to do that every operation becomes headache, you need to find saperate tool for every operation such as mp3cutter, tone creator, bitrate modifier, Recorder, file format converter. Mother of all of these is you may need do pay for software if two or more functions are combined in one tool.
so, here is such a great audio editor with tiny small size with free license for home user..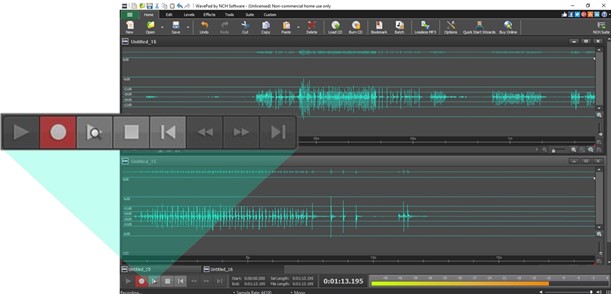 WavePad Sound Editor
with following features
Sound editing functions include cut, copy, paste, delete, insert, silence, auto-trim and more
Audio effects include amplify, normalize, equalizer, envelope, reverb, echo, reverse and many more
Integrated VST plugin support gives professionals access to thousands of additional tools and effects
Supports almost all audio and music file formats including mp3, wav, vox, gsm, wma, au, aif, flac, real audio, ogg, aac, m4a, mid, amr, and many more
Batch processing allows you to apply effects and/or convert thousands of files as a single function
Scrub, search and bookmark audio for precise editing
Create bookmarks and regions to easily find, recall and assemble segments of long audio files
Tools include spectral analysis (FFT), speech synthesis (text-to-speech), and voice changer
Audio restoration features including noise reduction and click pop removal
Supports sample rates from 6 to 196kHz, stereo or mono, 8, 16, 24 or 32 bits
Works directly with MixPad Multi-Track Audio Mixer
Easy to use interface will have you editing in minutes
Trim sound bites out of longer audio files
Reduce vocals from a music track
Cut together audio for radio broadcasts or podcasts
Save files for your iPod, PSP or other portable devices
Create ringtones from music files or recordings
Record voiceovers for multimedia projects
Restore audio files by removing noise, hissing or hums
Normalize the level of audio files
Very beautiful thing is it supports Windows 8 Interface.
Official Link: http://www.nch.com.au/wavepad/index.html
Given Pack In Above Includes Most Required Related audio tools includes in Best Audio Editor NCH Audio Suite