More people looking for freelance workers to get their work done within the budget. These top 5 freelancing websites helping both freelance job seekers and employers. You have to carefully create and publish your work profile on these websites. No need to go for all of them, you can just go to Fiverr or Upwork which is the most common freelancing service provider sites in the market. Although, the other three service providers have their own features and possibilities.
To become a successful freelancer you need to invest in yourself, whether it be classes, software, or branding. You need to make connections, you need to start with lower-paying work, in the beginning, to build up a portfolio and get your name out there. Once you get your momentum you just have to keep it growing.
Table of Contents
List of best online websites to start your freelancing career.
Fiverr helps you build your business (and portfolio) in graphic design, digital marketing, writing, translation, programming, and more.
Service Type: brand digital marketing, website development, social media and gigs
Pros: lots of category, zero cost registration, online courses
Cons: higher commission charge, delayed payment process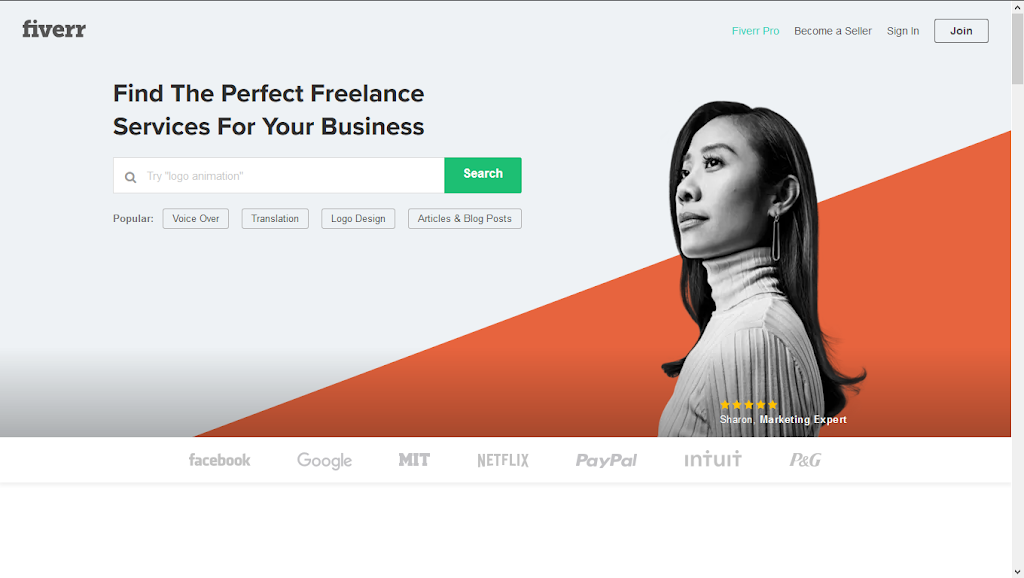 Fiverr is first in the top 5 best freelancing sites. It is a freelancing platform that connects freelancers with business owners looking for services in various digital projects, such as website design, copywriting, SEO, voice-over, youtube content creation, etc
Fiverr freelancing site provides streamlined connectivity for both freelancers and business owners to interact with each other. Freelancers are called sellers and their freelancing service is gigs. Customers are buyers here.
Instead of quoting or bidding work like on Upwork. Sellers publish their gigs (service package with fixed price). These fixed service packages are then purchased by buyers. The same service may have different gigs (service) packages and costs visa versa.
When buyers purchase gigs, Fiverr hold money. After acceptance of service by the buyer, payment is released to the freelancer after deducting 20% charger or fees. Money can be withdrawn within 14 days by various channels such as Paypal, debit card, or wire transfer.
Upwork is a popular online workplace place for freelance writers, designers, project managers, social media experts, and much more.
Service type: branding and marketing, programming, website design
Pros: payment protection, credible clients, budget-based projects
Cons: selection process takes time, high fees
The platform provides a wide range of categories, from web design and software development to customer service and accounting.
Clients and freelancer's business works bidirectional – clients may post a job and hire talent or buy a predefined service from the project catalog. Similarly, freelancers can apply to the job board and bid on a service to sell.
For freelancers, it is very easy to get started. You have to create a profile and ensure it includes all your skills and details. It is totally on the client to decide whom to hire, they do decide on their own screening method.
Initially, Upwork charges 20% commission from freelancers and then reduces as income crosses $500.There are several options for withdrawal, including direct transfer, PayPal, and wire transfer.
TopTal hires top freelancer talent in the areas of UX design, software development, and finance expertise. Once approved, you can gain access to jobs from companies like reputed companies such as HP, IBM, and Shopify.
Service type: software development, financial consulting, product management
Pros: top-tier companies and talent, free invoicing and payments
Cons: difficult for freshers, big projects, expensive for small brands
Toptal is the best freelance website that connects highly qualified freelance industry experts with reputed companies. Toptal has a broad range of freelancers, from web developers and web designers to finance consultants and product managers.
Toptal takes a five-step screening test. At various steps, the applicant is evaluated and only the top 3% are allowed to have access to jobs. The passed applicant will have access to various job postings from top clients and companies, such as Shopify and Airbnb. However, failing the test causes your application process on hold for up to a few months.
Toptal tracks time with its dedicated tracking and invoicing service called TopTracker. With this service, the payment sum is evaluated. Freelancers can receive payments via Payoneer, Paypal, or direct local bank transfer.
FlexJobs founded in 2007, lets you find telecommuting, part-time, freelance, and contract work in more than 50 categories, from project management to sales.
Service type: writing, content marketing, transcription
Pros: scam-free, 30-day money-back guarantee, reliable support
Cons: some outside platform jobs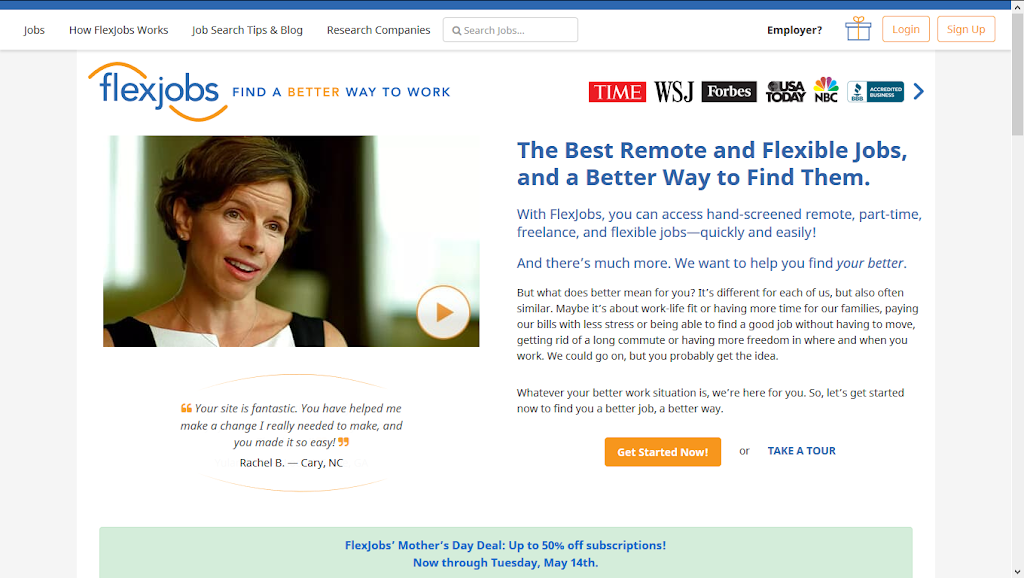 Flexjobs is a website for manually screened freelance flexible and remote job opportunities, including freelance, part-time and full-time jobs. There are many job categories, from education and training to journalism and writing.
Flexjob's focus is to ensure every freelance job is listed on the website is genuine. All company registration goes through verification and scam checks. Fexjob detects fake company jobs. No other advertisement is displayed on this website.
Freelance needs to sign up for a subscription. Subscription plans start from $6.95/week. There are total such four subscription plans, each of them gives unlimited access to the job listings, along with a personalized work portfolio, career advice, and free skills testing.
You can pay for their subscription with a prepaid card or PayPal. You can ask for a refund within 30 days if not satisfied.
Freelancer lets creatives find jobs in areas like website and app development, brand design, and digital marketing.
Service type: content translation, web development, social media marketing
Pros: progress tracker, good customer support
Cons: complex interface, spam applicants, and fake clients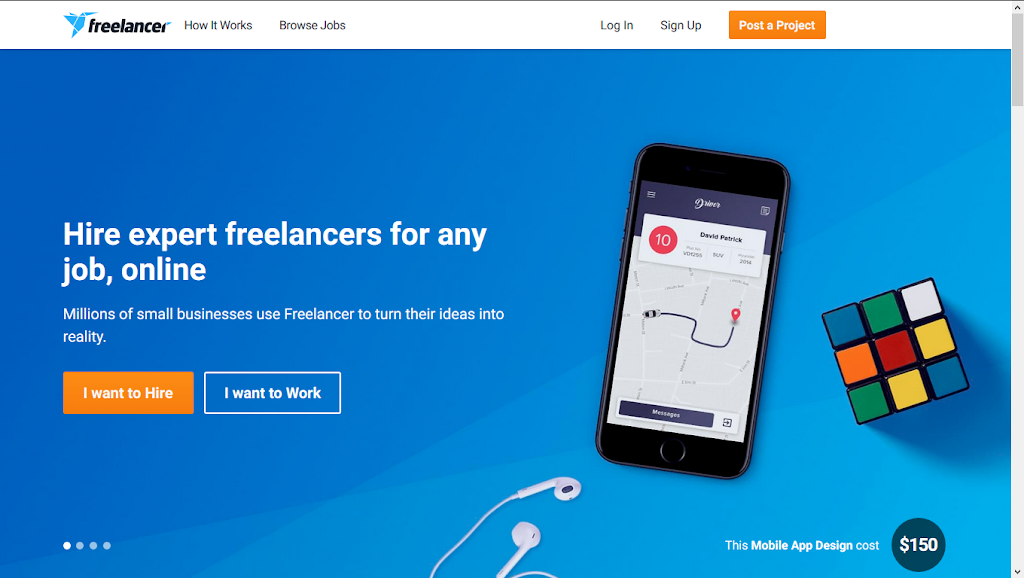 Freelancer.com is another freelance website where professionals and companies from around the world collaborate on various projects. Thanks to the wide range of expertise, clients can easily find an expert of any type.
You can sign up as a freelancer or business owner. Signing up as a freelancer will require you to fill out a short registration form. Provide detailed information, including your skills, educational background, and work experience.
In addition to projects, there are many contests, such as visual or design work. Freelancers can benefit from these contests by earning money along with reviews on their profiles.
Every freelancer will receive full payment after completing a job. However, the platform takes 10% of your total earnings for contests and fixed projects. Like most freelance sites, you can choose to use PayPal or wire transfer for withdrawal.