Looking for genuine Microsoft windows techies and fearing falling into the windows techies scam? As per Microsoft's blog, every month, they receive about 6,500 complaints from people who've been victims of tech support scams, which is down from 13,000 reports in an average month in prior years. These are enough numbers to scare needy people looking for online windows techie to fix windows problems.
According to the ' Global Tech Support Scam Research', India experienced a relatively high scam encounter rate of 69% in 2021 which was 70% in 2018.
Table of Contents
Who are windows techies?
Techies are expert people in or enthusiastic about technology, especially computing. They do techy things to fix computer and technology-related issues. Thus they are mostly demanded in the technical support business. When your computer starts malfunctioning and you look for a computer technician to fix your problem, this technician could be a computer techie you are looking for.
Similarly, people having a very high knowledge of windows and experts in fixing windows issues are windows techies. For example, Microsft Certified IT Professional is a windows techie.
What are windows techie scams?
Scammers pretend to be technical experts and extort money from victims in exchange for fake Windows support services. Tech support scams are an industry-wide issue where scammers use scare tactics to trick you into unnecessary technical support services to supposedly fix device or software problems that don't exist.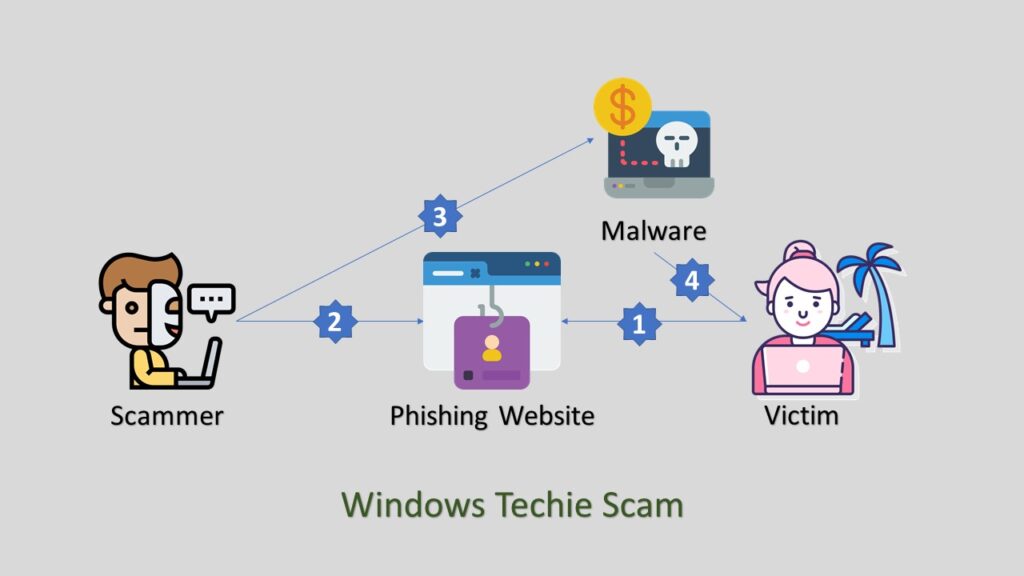 For example, windows techies scammer first infect windows computers at a large scale with their own developed malware. This malware displays fake windows issue popups. Error message popup contains scammers' contact or web page. And so the victim falls in scammers trap by contacting and buying service from that contact.
In the worst case, they will ask you to install their remote control tool. These remote control tools are trojan and backdoors to steal your sensitive information such as cards, private data. And you may have to face ransom demand for your personal things. These scams are executed very sophistically so that even normally precautionary persons can fall into their trap. They have professional web pages, certificates, and communication skills so it becomes difficult to identify them.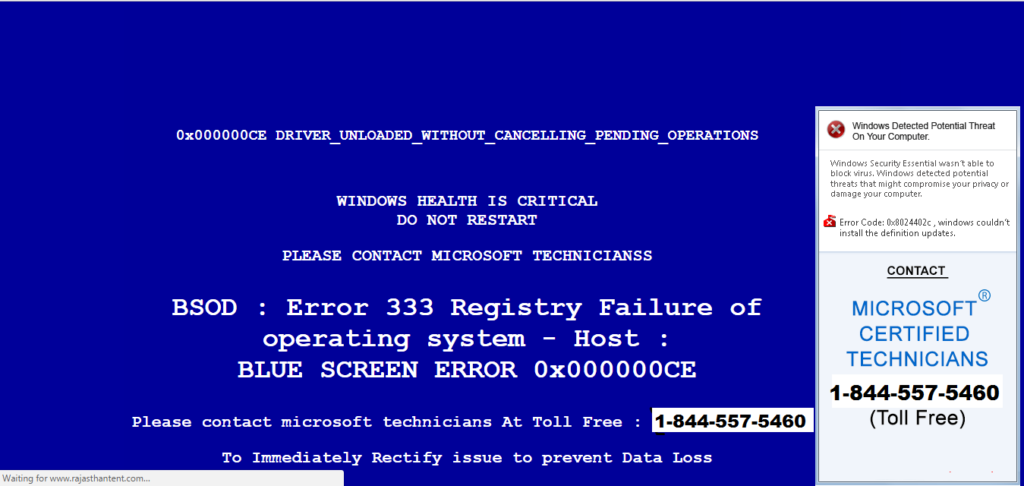 How to protect yourself from windows techie scams?
The only way to protect yourself from windows techies scams is by educating yourself of scam tactics and taking support service from official windows support or validated support providers. Remember following things before you look for windows support,
Microsoft never contact you to fix your computer until it is initiated by you.
Microsoft never include phone numbers in error message or send warning messages.
Windows technical support will never ask that you pay for support in the form of cryptocurrency like Bitcoin, or gift cards.
Never download softwares from other than windows store and official websites of known developer.
Install ad and popup blockers in web browser. Don't click on popups that that asks to allow some kind of unwanted permisions.
Use Windows Security real-time antivirus protection in Windows. It's on by default and it detects and removes known support scam malware.
Where to get genuine windows techie?
Getting genuine windows techies service is not that difficult. You just have to learn where to look and what to look for. And clearly, this doesn't include clicking on error warnings displayed by scammers malware.
Before you go for windows techies support service, scan and clean your computer by leading malware scanners and cleaners such as Malware Byte Free Edition. After this, if your problem did go away then go for external support.
Look for existing simmilar fixed issues at Microsoft Support
Hire Microsoft Certified Techie from Fiverr with high rating and recommendations. (remember: don't let them install unofficial or unknown tools and remote control apps)
[Best Option] Look for local or familler windows techie that will fix your issue.
Conclusion
Cybercrimes are rising with technological advancement. Cyber security has become a great concern for every type of technology user from naive users to government officials. Learning safety procedures and staying beware of scammers is the best way to stay protected.