Tried to open firefox, and it displayed the pop-up message "Your Firefox profile cannot be loaded. It may be missing or inaccessible". It means that the Firefox browser cannot find or access the folder that stores your profile. This error also occurs if the Windows cache is deleted, corrupted, or damaged. If you don't recover from this crash, you may have to face data loss. This data may include your browsing profile, bookmarks, and stored credentials.

The good news is that fixing this issue is simple and and don't take much time.
Table of Contents
Why Firefox fails to to load profile?
Firefox creates separate folder to store all the settings you configure in Firefox, such as the home page, the toolbars, saved passwords, and bookmarks. The profile folder is stored separately from the Firefox browser to protect your information from program crashes. But if this profile data gets corrupted it shows this 'Your Firefox profile can't be loaded' error message.
Saving user profile data in separate folder makes it possible to uninstall Firefox without fear of losing your settings. That's why Firefox asks you to opt to keep the user profile data. The default location of the profile folder is found in the %APPDATA%\Mozilla\Firefox\Profiles folder. Try one of the following fixes when encountering the 'Your Firefox profile can't be loaded' error message.
How to fix "Your Firefox profile cannot be loaded" issue
You can fix this issue by creating new firefox user profile by using profile manager.
When firefox is not opened
If Firefox can't access the profile folder because you deleted it, you can create a new folder using the Profile Manager and restore all the previous data stored on your profile. You will require your Firefox account email and password to make these changes.
1. Press the Windows Key, and then type firefox.exe -P.

2. Hit "Enter" to open the Profile Manager (Choose User Profile) window. If the Profile Manager window does not open, try to type in the full path to the Firefox application enclosed with quotes. That is, "C:\Program Files\Mozilla Firefox\firefox.exe" -P.
3. Choose the "Create Profile" option to open "Create Profile Wizard".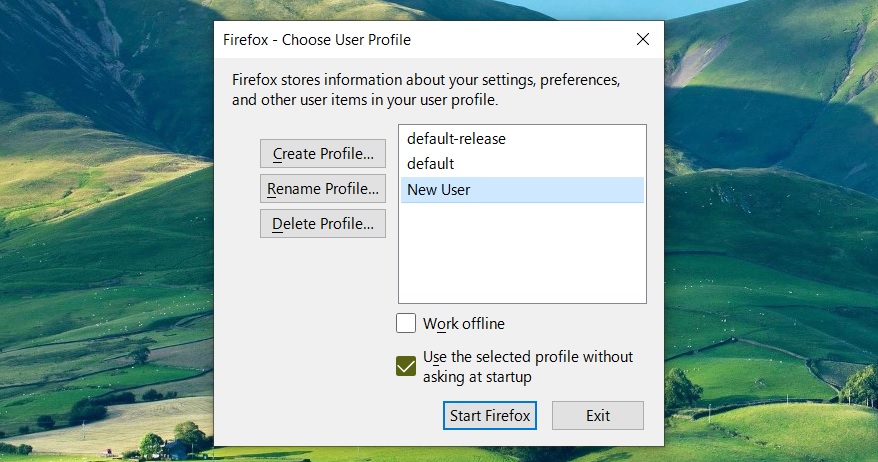 4. Click "Next" and fill in the name of the new profile you're creating under "Enter a new profile name".
5. Click "Finish". This takes you back to the "Choose User Profile" window, where you can either choose to exit the Profile Manager or start Firefox.
6. To finish the setup, click the "Start Firefox" button to launch the browser. Open the menu, which is located at the top-right corner, and click "Sign in to Sync".
7. Fill in your details to get the program running with all your Firefox profile data loaded.
When Firefox is opened
Type "about:profiles" into Firefox browser's address bar.
Click the "Create a New Profile" button to open the "Create Profile Wizard" window.
Follow Step 4 in the section above. The new profile you just created will be listed in the Profile Manager.
Choose the "Set as default profile" option located below that profile to allow Firefox to use your new profile when you restart it. You can delete old profile if you wanted to.
Conclusion
Data corruption problems can occur at any time in windows computers. It is recommended to keep your bookmarks and browser data always synced with the firefox account. Then you will not have to worry about losing it. You can access it anywhere in the world just by logging in to your firefox account and enabling sync.