How to Create wifi Hotspot in Windows 10 PC
Windows 10 comes with a Wi-Fi hotspot feature. It is very easy to create a wifi hotspot in windows 10 laptops as they have an inbuilt wireless adapter. But in the case of desktop computers, most of them do not have an inbuilt wireless adapter. Even if they have an inbuilt wireless adopter or we mount it inside the CPU it requires some technical knowledge of the command line and networking to create a Wi-Fi hotspot.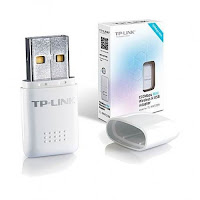 Here in this post, I am writing about creating a Wi-Fi hotspot just in one click using a mini USB wireless adapter. For sure you are going to need one mini USB wireless adaptor shown by side. ( see full specification)
Once you have a Mini USB Wireless Adapter follow these steps.
1
Setup USB mini adaptor
Many popular USB mini wifi adapter comes with driver installation media disk. If not, don't worry windows 10 will automatically set up a device driver for you. After inserting it into the USB port, Windows 10 will automatically configure it and start showing the wi-fi option. To see click on the network icon at the right bottom corner of your windows 10 screen.
Steps to quick connect,
Attach TP-LINK USB Wifi Adapter to your pc
Right Click On Internet Icon
Click On Mobile Hot Spot
2
Configure Wi-Fi name and password.
Before turning on the wifi hotspot on window 10 you should configure it first. Set up wifi hotspot SSID name and its password. As shown in the above screenshot you can see that the wifi hotspot in windows 10 supports up to 8 connected devices. The connected devices list also appears here. You can always edit and change the wifi hotspot setting from there, just remember to restart the hotspot every time you change the setting.
Quick steps
Left click on network icon then Right click on wifi icon
Click on goto setting
Click on Edit
Enter wifi SSID, password and save
3

Connect mobile phone to Wi-Fi

Now pick up your mobile phone, scan for the configured wi-fi SSID. Connect live wi-fi by entering a configured password. In the same way, you can quickly share your PC hotspot with other family members or a friend.