FASTag is a prepaid tag that allows for automatic toll payments on Indian highways. It is an electronic toll collection system that is operated by the National Highways Authority of India (NHAI). One of the most convenient ways to check your FASTag balance is through the PhonePe app, which is a popular digital payment platform in India.
In this article, we'll explain how to check your FASTag balance in PhonePe.
Steps to Check FasTAG Balance in PhonePe
Step 1: Open the PhonePe app To check your FASTag balance in PhonePe, you'll first need to open the PhonePe app on your mobile device.
Step 2: Click on the "See All" option under Recharge & Pay Bills section from the PhonePe home page. And then click on "FASTag Recharge" option under Recharge section.

Once you've opened the FastTag Recharge option, you'll see your previously recharged fast tag vehicle list. Click on the vehicle name or go to the next step if your vehicle is not listed.
Step 3: Click on "Add New Vehicle", this will allow you to add a new or existing FastTag account associated with the vehicle registration number.
Step 4: Select the bank name from which you have purchased FastTag. Then fill vehicle number on the next screen.
Step 5: After entering the correct vehicle number you will see information associated with the account. As shown in the following screenshot. Your FASTag balance will be displayed under Bill Details Section after the customer name.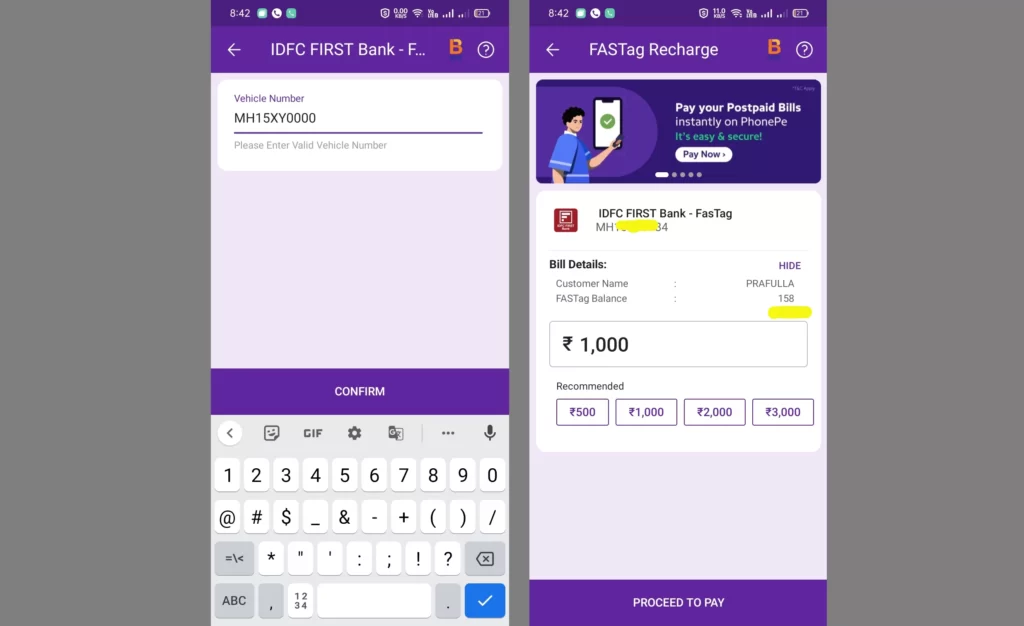 Example as shown in the above screenshot :
IDFC First bank FASTag
MH15AB1234
Customer name : Prafulla
FASTag Balance 158/-
FASTag Tips and Tricks
Here are some tips and tricks to help you get the most out of checking your FASTag balance in PhonePe:
Make sure to keep your FASTag account recharged to avoid any inconvenience while traveling.
Check your FASTag balance regularly to ensure that it is not running low.
If you face any issues with your FASTag balance or transactions, contact your bank or FASTag issuer for assistance.
Conclusion
Checking your FASTag balance in PhonePe is a simple process that can be completed in just a few steps. Following the steps outlined in this article, you should be able to check your FASTag balance in PhonePe quickly and easily. Whether you're a frequent user of highways or just starting out, knowing how to check your FASTag balance in PhonePe can help you keep track of your toll payments and avoid any inconvenience while traveling.