Hotstar, a popular streaming platform, offers a wide range of content, including movies, TV shows, live sports, and news. With its user-friendly interface and extensive library, it's no wonder that millions of users worldwide have chosen Hotstar as their go-to streaming service.
In this article, we'll walk you through the process of creating an account on Hotstar, addressing common FAQs along the way.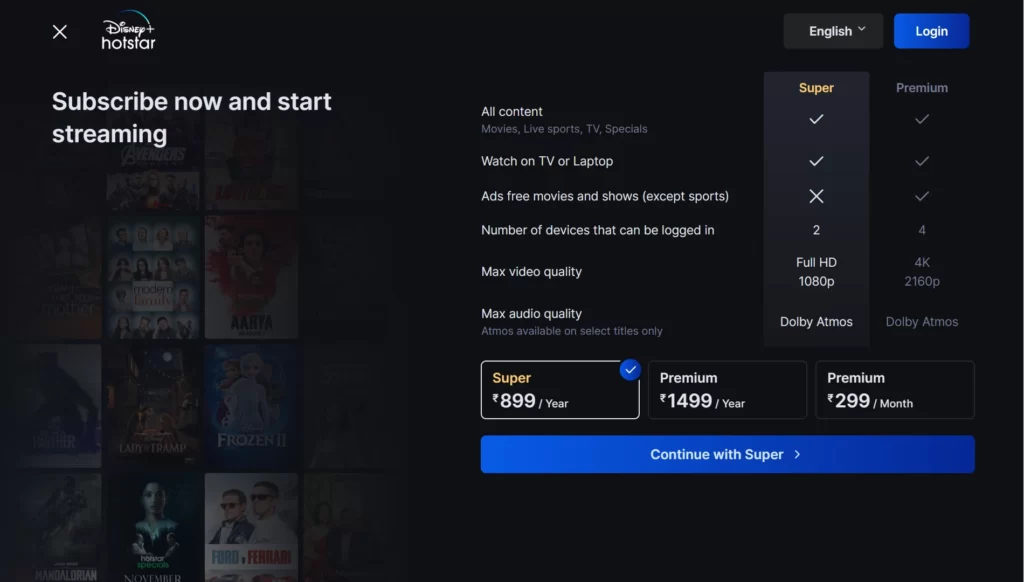 Step-by-Step Guide to Creating an Account on Hotstar
Step 1: Download the Hotstar App
To get started, download the Hotstar app from the Google Play Store or Apple App Store, depending on your device. The app is compatible with both Android and iOS devices, ensuring a seamless user experience across platforms.
Step 2: Launch the App and Choose Your Language
Once the app is installed, launch it and select your preferred language from the list of available options. Hotstar offers content in multiple languages, catering to a diverse audience.
Step 3: Sign Up for a New Account
On the app's home screen, you'll see a "Sign Up" button. Tap on it to begin the account creation process. You'll be presented with three options for signing up:
Sign up with your email address
Sign up with your mobile number
Sign up using your Facebook or Google account
Choose the method that works best for you and follow the on-screen instructions.
Step 4: Verify Your Account
If you chose to sign up with your email address or mobile number, you'll need to verify your account. Hotstar will send you a verification code via email or SMS, depending on your chosen method. Enter the code in the app to complete the verification process.
Step 5: Choose Your Subscription Plan
Hotstar offers various subscription plans to cater to different user needs. You can choose between a free plan with limited content and access or opt for a premium plan with additional features and an extensive content library. Review the available plans and select the one that best suits your needs.
Current Hotstar Subscription Plans,
Mobile – ₹499/ Year – 1 Mobile Device
Super – ₹799/Year – 2 Devices
Premium – ₹ 1399/ Year – 4 Devices
Step 6: Complete the Payment Process
If you've chosen a premium plan, you'll need to complete the payment process. Hotstar accepts various payment methods, including credit/debit cards, net banking, and digital wallets. Choose your preferred payment method and follow the on-screen instructions to complete the transaction.
Step 7: Customize Your Profile
Once your account is set up and your subscription is active, you can customize your profile by adding a profile picture, setting your content preferences, and more. This will help Hotstar curate content tailored to your interests, ensuring a personalized user experience.
Congratulations! You've successfully created your Hotstar account and can now enjoy unlimited access to your favorite content.
Common FAQs
Can I use Hotstar on multiple devices?
Yes, you can use your Hotstar account on multiple devices, including smartphones, tablets, and smart TVs. However, the number of devices that can stream simultaneously depends on your subscription plan. Check the plan details for more information.
Is Hotstar available outside India?
Hotstar is available in select countries outside India, including the United States, Canada, and the United Kingdom. The content library may vary depending on your location.
How do I change my subscription plan?
To change your subscription plan, go to the "My Account" section in the app and select "Change Plan." Review the available options and choose the plan that best suits your needs. Your new plan will be activated once your current plan expires.
How do I cancel my Hotstar subscription?
To cancel your subscription, go to the "My Account" section in the app and select "Cancel Subscription." Follow the on-screen instructions to complete the cancellation process. Please note that refunds are not available for partially used subscription periods.
What if I forget my Hotstar account password?
If you forget your password, tap on the "Forgot Password" link on the login screen. Enter your registered email address or mobile number, and Hotstar will send you a link to reset your password.
---
Creating an account on Hotstar is a simple and straightforward process. By following the steps outlined in this guide, you'll be able to enjoy a seamless streaming experience with access to a vast library of content. Don't forget to address any questions or concerns by referring to the common FAQs section. Happy streaming!