Camera technology continues to evolve, and the desire to upgrade your gear can become irresistible. Luckily, there's a cost-effective solution: trading in your old Nikon camera equipment.
In this article, we'll walk you through the process of trading in your Nikon camera, ensuring you secure the best possible deal for your beloved companion.
Understanding the Nikon Trade-In Process

Before initiating the trade-in process, it is essential to assess the current valuation of your camera equipment. If it meets your expectations, you can proceed further. Firstly, you will be required to purchase a new Z series camera or lens from Nikonusa.com. Following that, you will need to send your old camera to them. Upon evaluation, you will receive a refund based on the initial trade-in quote you received.
Steps to how do I trade in your Nikon
Before reading the steps to the trade-in or exchange process please get in mind that currently, this program is available to valid US address only. And the product you are going to trade must be in working condition.
Step 1: Build your trade-in quote.
Go to the Nikon Z Trade Up | Request Estimate (nikonusa.com) page. Fill in your current camera details as shown in the following screenshot.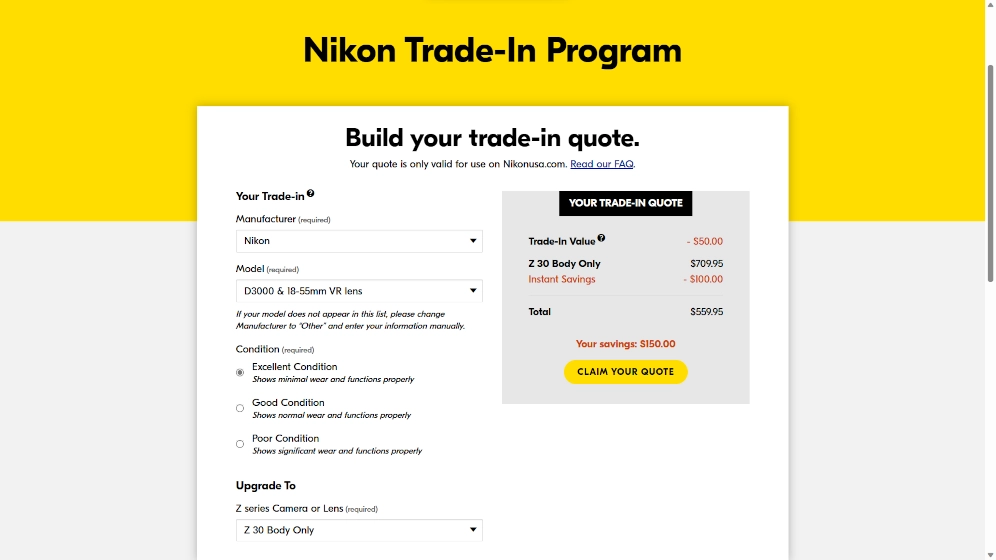 Carefully assess your old camera condition and select in the form. Also, mention what eligible product you are going to buy. The form will give you a clear idea about your trade-in value and savings.
Click on the "Claim Your Quote" button and then proceed to fill in your information on the next page.
Step 2: Buy an eligible z series camera or lens
Now, buy the eligible brand new Nikon Z series camera or else from Nikon | Shop & Explore Cameras, Lenses, and Accessories (nikonusa.com) page. Wait for the product delivery.
Step 3: Send the old camera to Nikon
Once you receive the new camera product. You have to dispatch mentioned camera or lens product to the address you get in the trade-in registration email. It also includes packing and labeling instructions. Check your spam or junk box if you didn't get any emails after trade-in quote registration.
Your product must have shipped to Nikon within 2 weeks of purchase of your new Z series product in order to maintain the originally quoted trade-in value.
Step 4: Get a refund
They will inspect your product. If it is accepted. A refund amount will be issued to the payment method you used to purchase your new Z series product (plus a bonus, if applicable). 
Waite for a few days for payments to appear in the bank statement.
Trading in your Nikon camera provides a fantastic opportunity to bid farewell to your trusted companion while embarking on a new photographic journey. By following the steps outlined in this comprehensive guide, you can ensure that you secure the best possible deal for your beloved camera. So, embrace the excitement of upgrading your gear and unleash your artistic vision with a shiny new Nikon by your side.