Are you looking to expand your business by selling products online? Flipkart, one of India's largest e-commerce platforms, can be an excellent choice. Creating a seller account on Flipkart is a straightforward process that can open doors to a vast online customer base.
This article will guide you through the steps to create your seller account on Flipkart.
Documents required to become a seller on Flipkart
Before you start creating Seller's account on Flipkart keep in mind to be ready with following
Active Mobile Number
Active Email ID
Regular GST Number (not necessary for selling books)
PAN Details (only applicable for selling books)
Active Bank Account
At least 1 product to sell
If you don't have one, please focus on getting ready with a checklist first.
Steps to Create a Flipkart Seller Account
Creating a seller account on Flipkart is a great way to tap into India's thriving e-commerce market. Follow these steps, provide accurate information, and offer quality products and services to build a successful online business on Flipkart.

Step 1: Signup Onboarding Process
To begin your journey as a Flipkart seller, visit the Flipkart Seller Portal (https://seller.flipkart.com). This is where you'll manage your seller account and list your products. Click on the "Start Selling" button to get started.
This step includes,
Mobile number verification
Email ID registration
GST or PAN verification
Password Creation
You will need to provide your mobile number and email address for verification. Make sure the information you provide is accurate, as this will be used for communication with Flipkart.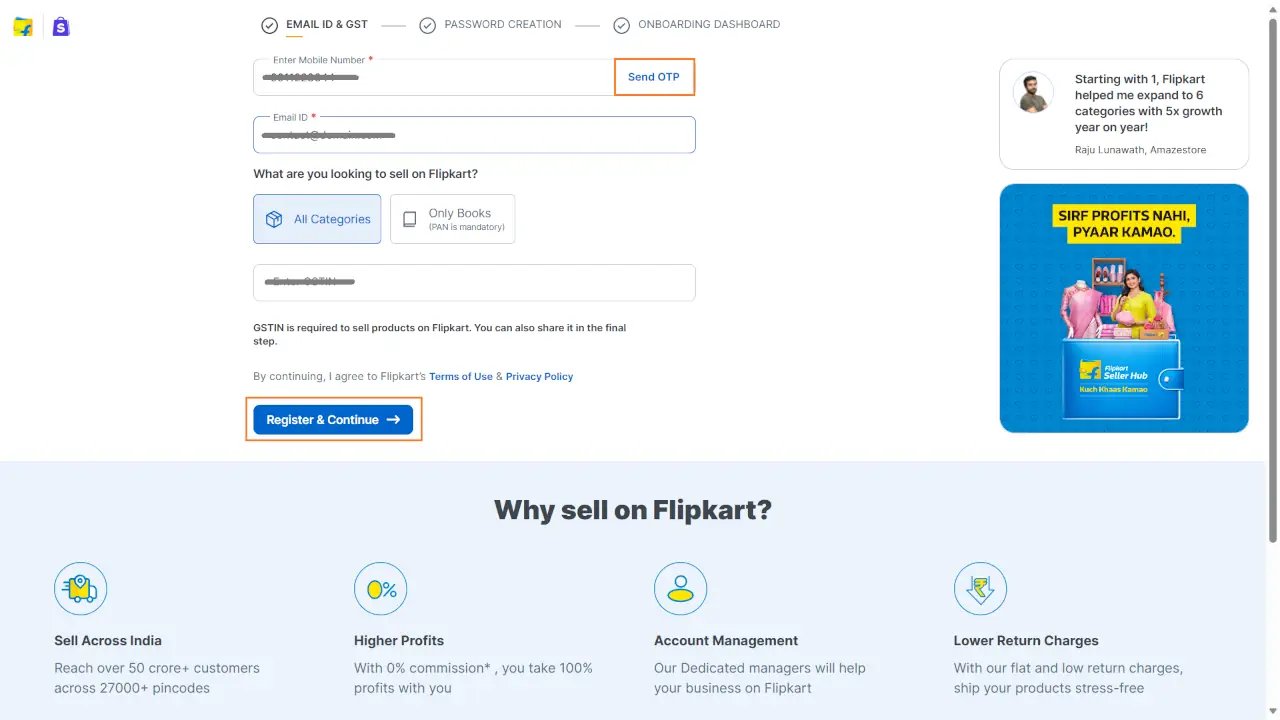 Verify Mobile Number: After entering your mobile number, click on "Send OTP" at the end of the input box. You will receive an OTP (One-Time Password) on your mobile device. Enter this OTP to verify your mobile number. This step is crucial for security and communication purposes.
Verify GST or PAN Number: Select "All Categories" if your product is other than Books, otherwise, select "Only Books". You will be asked to Enter GST (Goods and Services Tax Identification Number) for "All Categories". Another way is only PAN (Permanent Account Number" is sufficient for selling "Only Books"
After entering all the above-mentioned details, click on the "Register & Continue" button.
Step 2: Complete Pending Onboarding
After creating an account with email and password you will reach at "Onboarding dashboard", where you will notice your onboarding complete status is completed only 55%.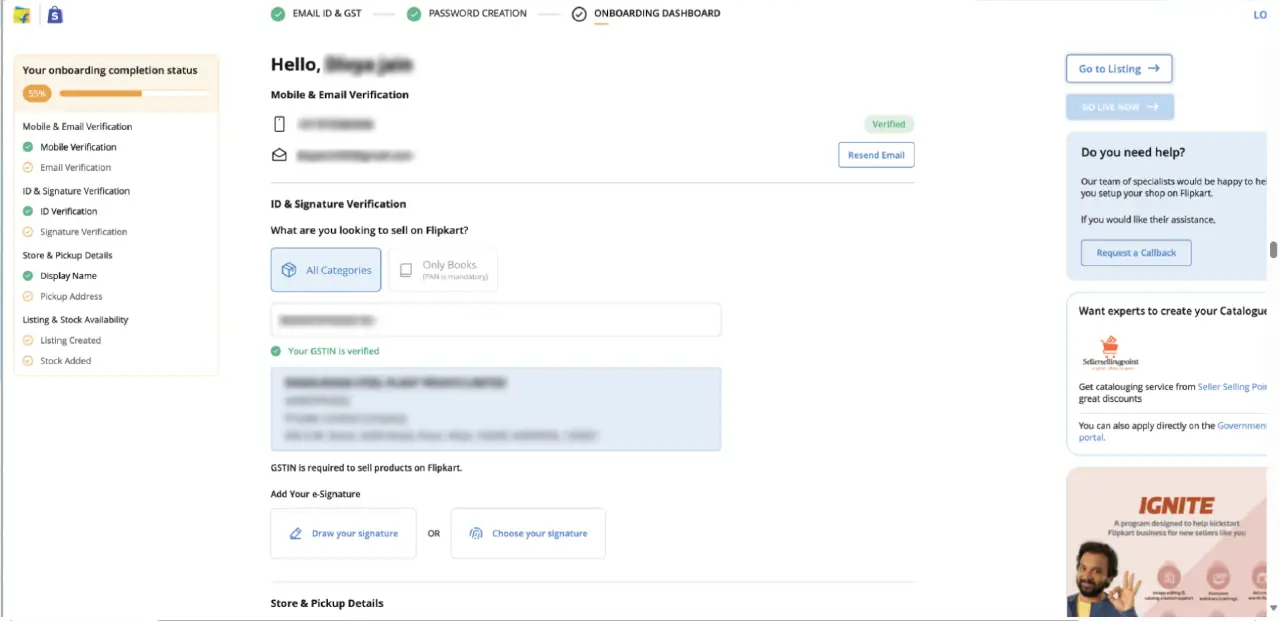 Still, there are the following things that need to be completed,
Email Verification
Signature Verification
Pickup Address Registration
Bank Account number
Listing Creation
Adding Product Stock
Now, start completing pending steps one by one,
Email Verification: Click on the verify email link received in your registered email ID to mark this status completed.
Signature Verification: Better you upload your scanned signature when asked, otherwise you can directly draw your signature using a mouse.
Pickup Address: Enter the pickup address where the Flipkart courier partner will pick up your product when ordered by the customer. Remember, the location must be in the serviceable area.
Bank Account Number: This is optional in the first place. You can do it after your store goes live when approved by Flipkart.
Listing Creation: It means adding your product to the Flipkart catalog. Provide your genuine product details, upload a clear product image (min 1100px X 1100px), pricing, and stock details.
Step 3: Wait for Flipkart Approval
After completing all the steps, your seller account will be under review. Flipkart will verify the information you provided. This process may take a few days, so be patient.
Step 4: Start Selling Your Product
Once your seller account is approved, you can start listing your products on Flipkart. You will receive orders. Fulfill those orders, and replenish product stock. Manage returns. And receive payments in your registered bank account.
Points to Remember
Add accurate product details or description
Highlight the major selling points of your product
Add details about returns and replacement policy
Add product care instructions (wherever applicable)
Quick Tips for Success on Flipkart:
Here are some quick tips to help you succeed as a Flipkart seller:
| Tip | Description |
| --- | --- |
| High-Quality Images | Use clear and appealing images of your products. |
| Competitive Pricing | Research competitors' prices and offer competitive rates. |
| Accurate Product Descriptions | Provide detailed and accurate product descriptions. |
| Excellent Customer Service | Respond promptly to customer inquiries and issues. |
| Timely Order Fulfillment | Ensure timely order processing and shipping. |
| Promotions and Offers | Run promotions and offers to attract more customers. |
Conclusion
Remember that consistency and customer satisfaction are key to long-term success in the world of e-commerce. Happy selling!