Eventually, you may get a RICOH printer without installation media (CD). If this happens, you have to install the RICOH printer driver without a CD. For this, you have to download and install it from the Internet. In this post, we will see how to use the universal driver download manager from RICOH.
Using the import driver package to install the printer driver is a boring procedure. CD comes with printer contains except driver for the purchased printer device. These days laptop CD drives are being replaced by alternative technologies and users are able to install software without the need for a CD.
What is a device software manager?
RICOH device software manager is a universal driver installation tool provided for RICOH device owners. It enables devices used to automatically detect and install specific device drivers without the need for a CD (Installation Media). It stops the hunt of specific devices, specific drivers. It also allows updating existing outdated printer drivers.
Similarly, better if you use the driver software manager to install the RICOH printer driver. It is available to download, you can get it from the Device Software Manager Download page.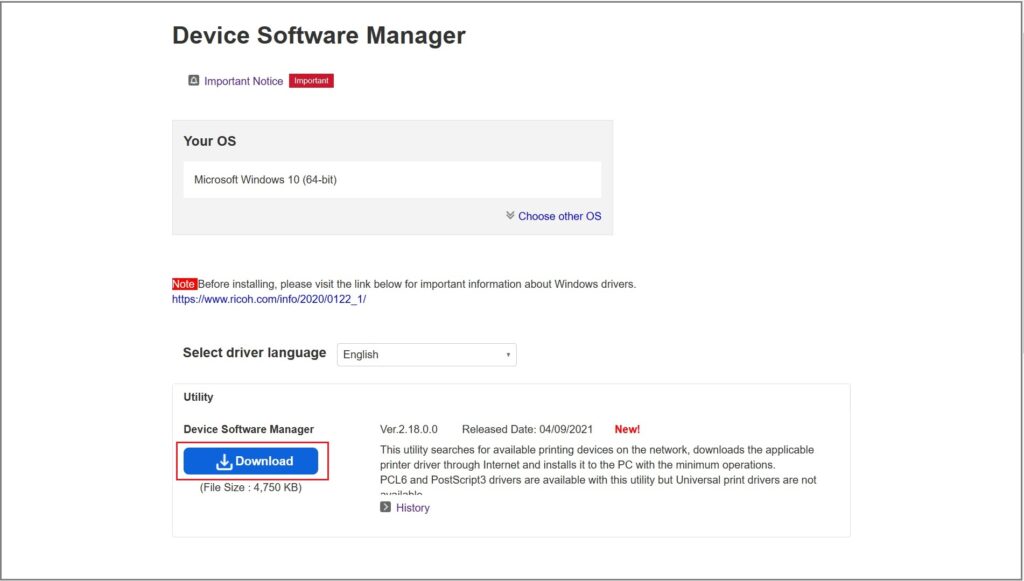 Go to the above-mentioned download page. From here you can download the latest version of the RICOH Device Software Manager for your operating system. The page automatically detects your operating system, like here it detected and provided a download for windows 10 (64bit). Download it and install it into your windows pc.
How to install printer driver?
Run this device software manager, it will ask you to choose the option to install the printer either using a USB connection or by detecting on the network. Proceed as per your requirement.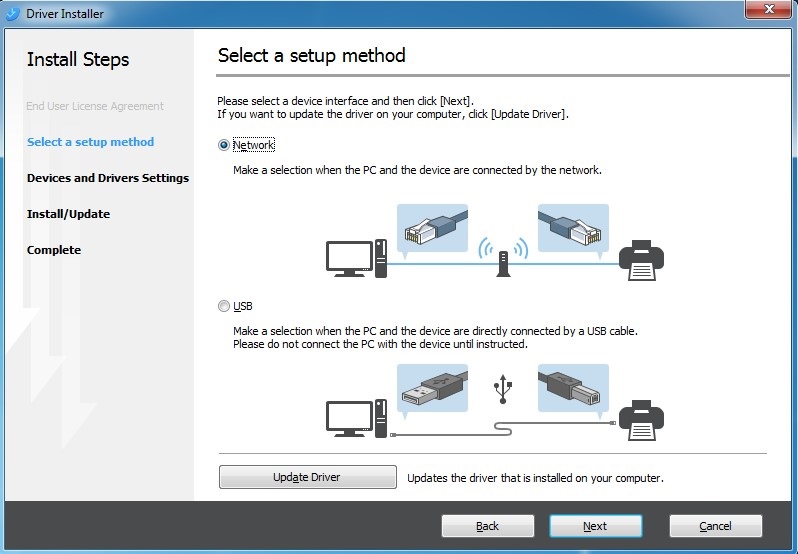 When you initiate setup Device Software Manager searches the same network segment as your PC and displays a list of supported multifunction products and printers. When a device is selected from the list, its IP address and other network information are acquired for driver setup. Even if a device is not on the same network segment, you can also search directly by IP address or device number. In this way, you can Install RICOH Printer Drivers Without CD.
Following types of device drivers are supported by device software manager,
PCL6 Driver
PS V4 Driver for Universal Print
DDST Printer Driver
LAN FAX Driver
PCL6 Driver for Universal Print
PCL6 V4 Driver for Universal Print
Postsciript3 Driver
PS Driver for Universal Print
Conclusion
Internet average download speed is very higher than a few years back. Many laptops are being sold without a CD drive. So, most printer brands have developed universal printer drivers. Even a nontechnical person can easily install drivers with the help of such tools. 🙄 What's your printer story? Are you using CD or have your own way! Write it in the comments.