Do you know you can introduce yourself in PPT?
Saying hello properly is an important skill whether you're at social or work. Be it as you enter a new role, make a business presentation, meet potential customers, etc. a great crafted self-introduction does stick forever to their memories.
Self-presentation slides are a modern way to make about you-slide which includes personal details of yours, your profession, credentials, honors, abilities, knowledge/education, and interests.
Here's the premium ppt template that will allow you to make an impressive business presentation. Is chic and sleek and includes all the essential elements to demonstrate your professionalism.
The best of all — it's completely free to download and use any way you wish🤘🏼🤘🏼
Self Introduction PPT Template
This template has two slides and contains only two color shades other than black and white. It is fully editable and compatible with the latest Microsoft PowerPoint, Google Slides, and other Opensource programs.
Here is a screenshot,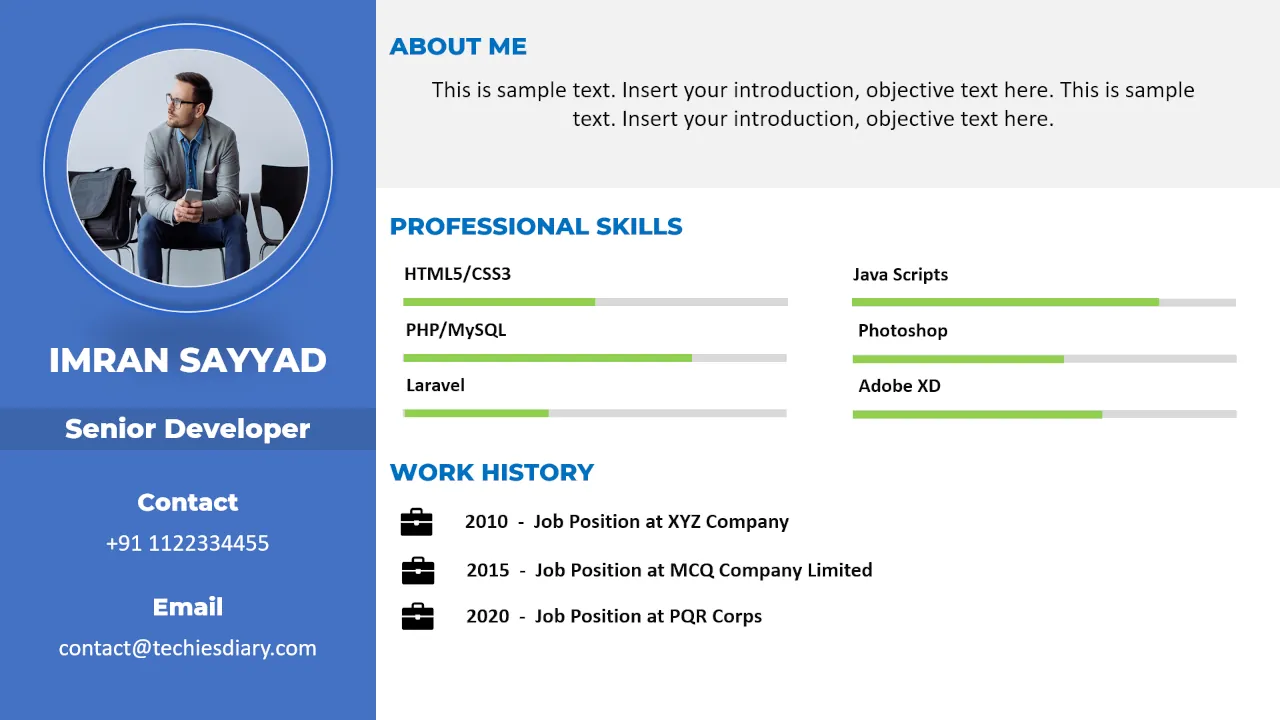 This creative PowerPoint template has the following key features,
It has an Impressive elegant and minimal design
Progress bar to illustrate your skills
Bold and clear name, job title, and contact labels
Innovative round shape profile picture
Icon listing for work history, education, and projects
Author: Imran Sayyad (techiesdiary.com)
File Name: Self Introduction Template.pptx
File Size: 70 Kb
License: Free
Get this Template from Here: ⏬ Link
A self-introduction is your digital business card. It tells others who you are, what you bring to the table, and why they should pay attention.
You can use it during
online interview
project proposal
group meetings
seminars and workshops
Remember that the key is to adapt the content of these slides to the specific context and audience. Highlight the most relevant information that aligns with your goals for that particular interaction.
Whether it's a job interview, a business presentation, or a networking event, a well-crafted introduction this template can set a positive tone and enhance your communication effectiveness.
Introduction Template Usage Tips
👉🏼To make the most out of this free template you have to utilize its sections and text fields.
👉🏼Replace the profile image and make lear meaningful about me statement.
👉🏼You can add more slides to mention your research and achievements.
👉🏼You can add animation and school-relevant backgrounds to introduce yourself in class.