If you're a content writer like me, you know the importance of visuals in making your blog or website engaging and eye-catching, and Canva is one of the best content creators companions to create stunning featured images or illustrations.
Sometimes the question arises Can we use Canva images on your website legally and without any hassle?
Let's find the answers to the copyright of Canva images.
can I use Canva images on my website?
Yes, you can use all canvas images on your blogs or websites as long as you adhere to their usage guideline. There's no requirement to attribute photographers or designers when using their content on Canva.
Keep reading to understand canvas licensing and usage guidelines.
What is a 'Canva Image License'?
Let's clarify the concept of a 'license.' In the context of Canva, a license is essentially an agreement that grants you the rights to use specific content available on the platform. Canva aims to simplify the licensing process to ensure that you can focus on creating without legal complexities.
There are three types of licenses in Canvas that are applicable to all the generated images.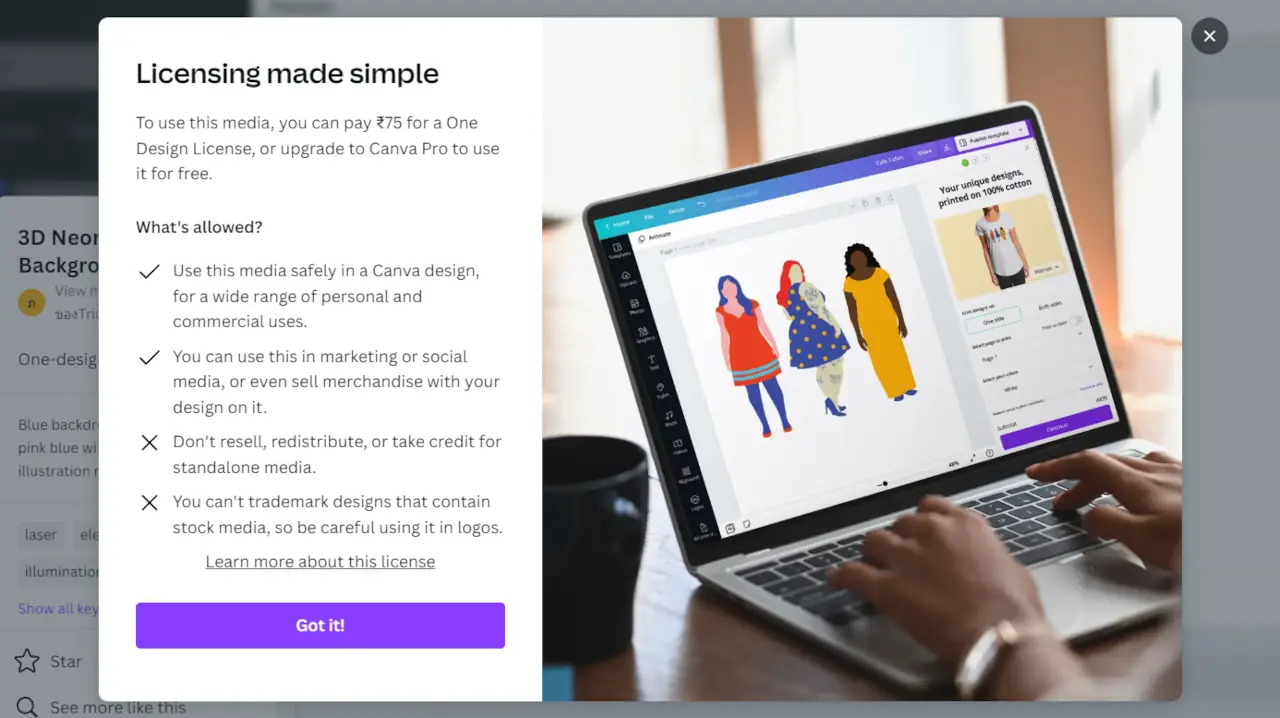 As the name suggests, Free content can be used without any cost. It covers a wide range of creative assets, including photos, icons, illustrations, videos, audio, fonts, and templates. However, Free content may have a watermark on Pro content if used by free users.
In the Pro plan, all pro-marked content is available to use without any restrictions. Canva Pro, enjoy the privilege of using Pro content without watermarks. Moreover, as a Pro user, you automatically receive a Pro Content license for each new design using the same piece of content.
The one-time license requires a nominal fee of $1 for free users to use it in their designs. Is applicable to single pro image only. You can use it however you want to form a single design. You can not use this one-time purchased image in a different design. For this, you have to purchase it again.
Types of Images in Canva
There are four types of images you can use in the Canva app. They are as follows.
Free Images from Canva
Pro Images from Canva
Free Stock Images Uploaded by You
Paid Stock Images Uploaded by You
From the above list, you can use free type of images on your websites without any worry. As they are already royalty-free. You can use Pro images only when you have a paid pro plan subscription. Without a paid plan your design will show a watermark.
Be careful if you are uploading external stock images. The use of those images on the website depends on where and how you obtained them. Legally purchased images can be used on websites according to the license agreement provided by the stock owner at the time of purchase.
Canva Images Usage Guideline
Canva's content usage policies are designed to be flexible and accommodating for various purposes. You can use Canvas content for personal and commercial endeavors, such as marketing, social media, and even selling merchandise featuring your designs.
However, it's essential to adhere to some guidelines:
Don't Resell or Redistribute: Avoid reselling, redistributing, or claiming credit for Canvas content as your own. Respect the intellectual property rights of content creators.
Standalone Content Restrictions: While you can be creative with Canvas assets, standalone content (e.g., using a single photo without additional design elements) has some limitations. For instance, it can't be printed on products for sale.
Pixel Limit for Online Use: When using Pro content for certain online purposes like websites and ebooks, be aware of pixel limits to protect Canvas Pro Content from unauthorized downloads.
In conclusion, the Canvas licensing system offers a user-friendly way to access and utilize a vast array of creative assets. Whether you're a free user or a Canva Pro subscriber, understanding these distinctions and guidelines will help you make the most of your design endeavors while respecting the rights of content creators.
So, the next time you wonder, "Can I use Canva images on my website?" – the answer is yes, as long as you do so responsibly and creatively. Happy designing and writing!