OLX is a popular online marketplace where people can buy and sell a variety of items. It is available in multiple languages to cater to a diverse user base. If you are using OLX and want to change the language of the interface, you can do so easily by following a few simple steps. In this article, we will guide you through the process of changing the language in OLX.
Steps to change language in olx
Changing the language of OLX on a computer browser is very easy, you just have to click on the "English" option just right to the search bar as shown in the following screenshot.

Remember, currently only "English" and "Hindi" these two language options are available in India.
To change the language through the OLX app, follow these steps.
Step 1: Log in to Your Account
First, log in to your OLX account. You can do this by going to the OLX website and clicking on the "Log In" button located at the top right corner of the page. Enter your username and password, and then click on the "Log In" button to access your account.
Step 2: Go to Your Profile
Once you are logged in, click on your profile picture located at the top right corner of the page. This will take you to your profile page.
Step 3: Select Language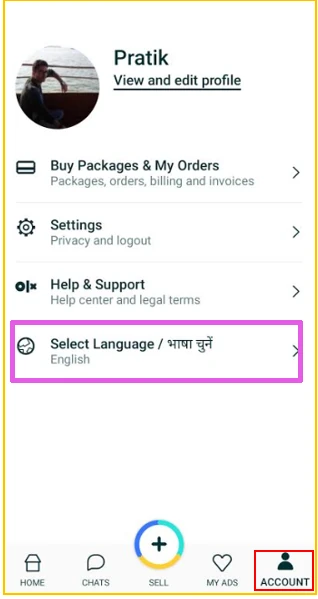 On your profile page, you will see a "Language" option. Click on it, and a drop-down menu will appear. This menu will display a list of available languages that you can choose from.
Step 4: Choose Your Preferred Language
Select the language you want to use from the list. Once you have selected your preferred language, the interface of the OLX website will change to the language you have selected. You can now navigate the website using the language you are most comfortable with.
Step 5: Save Your Changes
After you have selected your preferred language, make sure to save your changes by clicking on the "Save Changes" button located at the bottom of the page. This will ensure that the language you have chosen will be applied to all future OLX sessions.