You must have heard of the OLX website! It's a really cool website where you can buy and sell all sorts of things. It's like an online marketplace where people from different places come together to find buyers or sellers for their stuff like clothes, electronics, furniture, and even cars or houses. And It's free!!😲
You must be wondering, how it's possible to provide such an e-commerce-style service for free. Many users often wonder whether OLX secretly charges money for selling and how the platform generates revenue.
In this article, we will see why the OLX website is free of cost and learn its revenue model.
Does OLX Charge Money for Selling?
OLX doesn't charge any money for listing, selling, and buying products. It facilitates transactions between buyers and sellers free of cost. It is the key advantage of using OLX is that it allows users to post ads and sell items without any upfront charges. It means you win not be asked to add payment information until you choose to.
How Does OLX Make Money?
OLX primarily generates revenue through advertising and premium services. Users can choose to promote their ads through paid options such as featured listings or premium placements. These options enhance the visibility of the ad, increasing the chances of attracting potential buyers.
Due to many similar products listing, it is highly possible your product may not get the buyer's attention. Then here comes the need for paid listings. These paid features are optional, they provide sellers with an opportunity to boost their ad's visibility and reach a larger audience.
While OLX offers free listings and basic services to attract a large number of signups, it does also have a revenue model in place to sustain its operations. Here are some key ways OLX makes money:
1. Featured Listings
OLX offers sellers the option to promote their ads through featured listings. By paying a fee, sellers can ensure their ads appear at the top of search results or in prominent positions on the platform. This increased visibility helps sellers attract more potential buyers, making it a valuable service for those seeking quick and effective sales.
Here is an example of a featured listing, where some Audi cars are promoted to the top of the search page with a golden yellow badge "FEATURED"
2. Advertising
Like many online platforms, OLX leverages advertising as a significant source of revenue. By displaying targeted ads to its vast user base, OLX generates income from advertisers who are keen to reach potential customers. These ads can be seen throughout the platform, including search results, category pages, and individual ad listings.
Here is an example of discounted AUTO ADS boost paid package,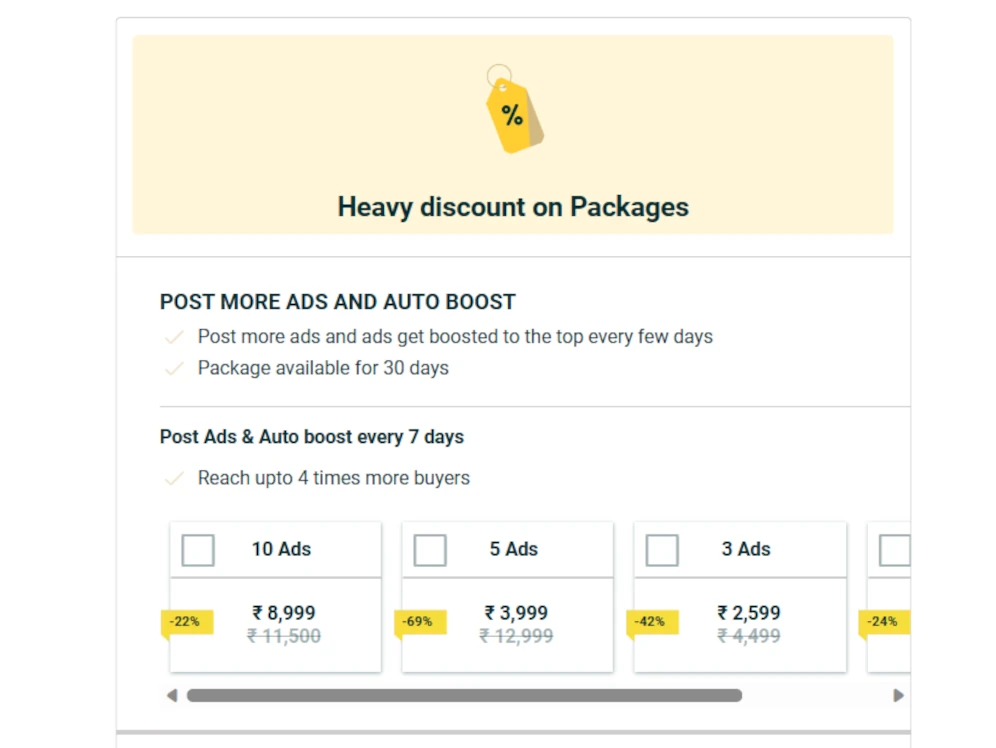 There are no fixed plan-based advertising boot packages. The cost of advertising depends on the product and location. For example, promoting expensive cars will cost you higher than promoting clothes or watches.
Similarly, you will be charged more in the metropolitan city compared to urban area location.
Overall, we can simply describe this model as free for testers and paid-for professional sellers. If you are a serious reseller of things online then there is no better alternative rather than going with OLX's paid listings. But remember to follow listing guidelines and tactics to make good seller practice.
On the other hand, it's always free for buyers, happy buying.😊
Conclusion,
OLX offers a free platform for individuals to buy and sell products and services. Advertising plays a crucial role in OLX's revenue model, allowing the platform to monetize its user base. Overall, OLX strikes a balance between providing free services and offering paid options to cater to the diverse needs of its users.