When selling on OLX" or any other online marketplace, "Describe what you are selling" refers to the information and details about the item or product that you are putting up for sale.
It is essential to provide an accurate and detailed description to attract potential buyers and ensure that they have a clear understanding of what they are buying.
In this article, we will see detailed information about description content to be filled while posting product ads on olx with an example.
What to include in the description?
The "Describe what you are selling" section typically includes information such as the
Item's condition,
Reason of selling
Features such as size, color,
Brand, model,
And any other relevant details.
You should also include clear, high-quality photos that show the item from different angles to give buyers a better idea of its condition and appearance.
It is essential, to be honest, and transparent when describing what you are selling. Any defects, scratches, or damage should be clearly mentioned in the description to avoid any misunderstandings or dissatisfaction from the buyer's end.
Writing a good product description is important when selling items online. It can help attract more potential buyers who are looking for specific products or services.
By providing detailed and accurate information about the item, such as its features and condition, it becomes easier for buyers to make informed decisions about purchasing. This can also help establish trust with buyers, which can lead to positive reviews and more sales in the future.
Example description used in OLX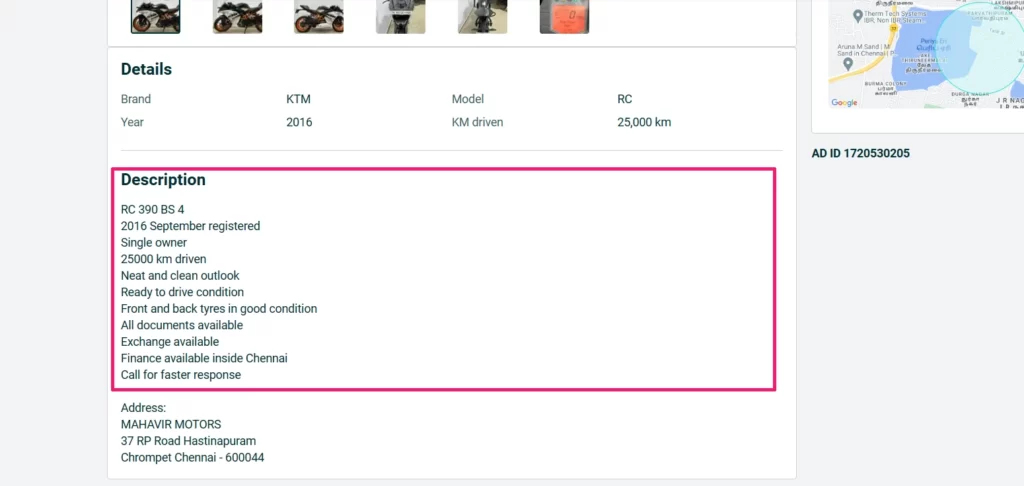 Here is an example of olx car selling description,
2015 Honda Civic LX
– This car is in excellent condition with no accidents or damage.
– It comes with a clean title and has been well-maintained with regular oil changes and tune-ups.
– Features include air conditioning, power windows, a backup camera, and Bluetooth connectivity.
– The reason for selling is that the owner is moving to a new city and no longer needs a car.