Steam Big Picture is a mode of the Steam digital distribution platform that allows users to access the Steam platform and play their games on a TV screen or large display with a controller or remote. It was designed to make gaming on large displays more accessible and intuitive, especially for users who prefer to play games with a controller rather than a keyboard and mouse.
But, it comes with little issue. There is no easy, familiar way to exit from big picture mode.
What is steam's big picture mode ?
Steam has designed a special Big Picture operating mode for users, which can be used with TV and controller. It increases comfort and enjoyment. You can enter in full-screen user interface mode by pressing a button. It has been specially redesigned for readability and user-friendly interaction on a full-screen TV.
It doesn't disappoint computer users also, as it is fully compatible with usual computer screens. Computer use can operate it using a normal keyboard or attached controller stick. So, you can sit on your sofa and navigate steam just like it was in the windows media center.
If you have a controller, this mode lets you navigate the platform with only a controller- no mouse or keyboard is needed. If you heavily use a controller for gaming or use Steam in a living room gaming setup, Steam's Big Picture mode is your best companion. It is currently supported on window 7 and newer versions. Using mac or ubuntu? See the full list of system requirements.
Mac system users need to install a third-party driver to Xbox 360 controller. A driver is available to download from TattieBogle.net. Any Steam-powered game can be played while in this mode. The only issue can be with controller-incompatible games. 
This mode has home screen interfaces similar to video game consoles with all the functionality of the desktop apps. The mode is a great to use with a controller, without a mouse, and without a keyboard. This is the reason which made it comfortable. And the same thing made it confusing to exit from full-screen big-picture mode.
Controlling Big Picture Mode
The quickest way to enter into and exit out of Big Picture's mode is to press ALT + ENTER from your keyboard.
Entering in big picture mode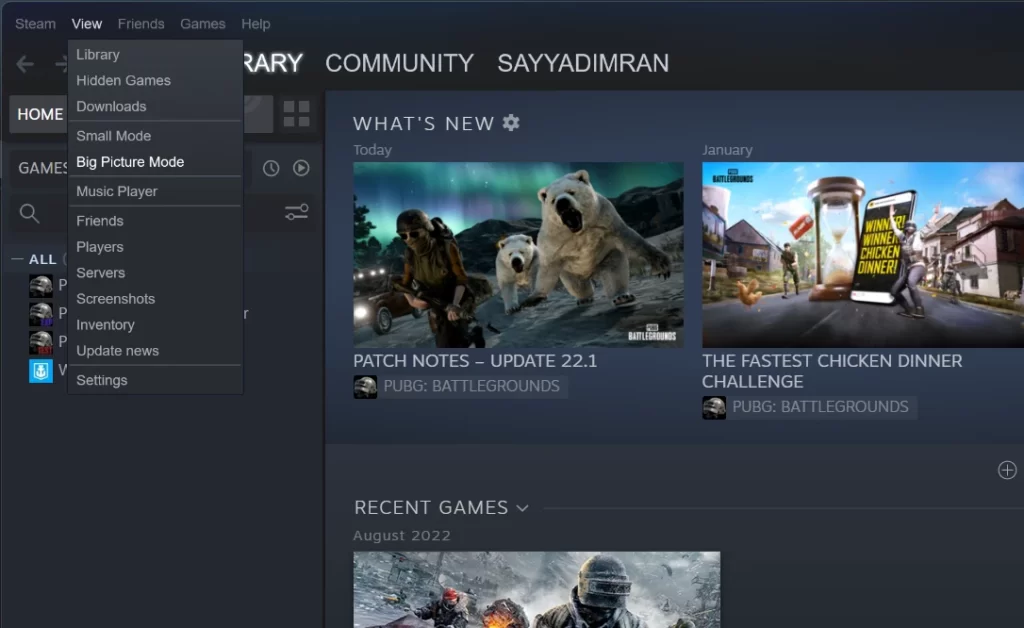 Once you have started your computer, laptop system, or TV, go to steam shortcut.
Open the Steam app on your display; it could be a TV or PC monitor.
Click on the Big Picture button in the top right of the Steam app or from "View->Big Picture Mode" option (or press and hold the home button on your controller device).
Exit big picture mode in steam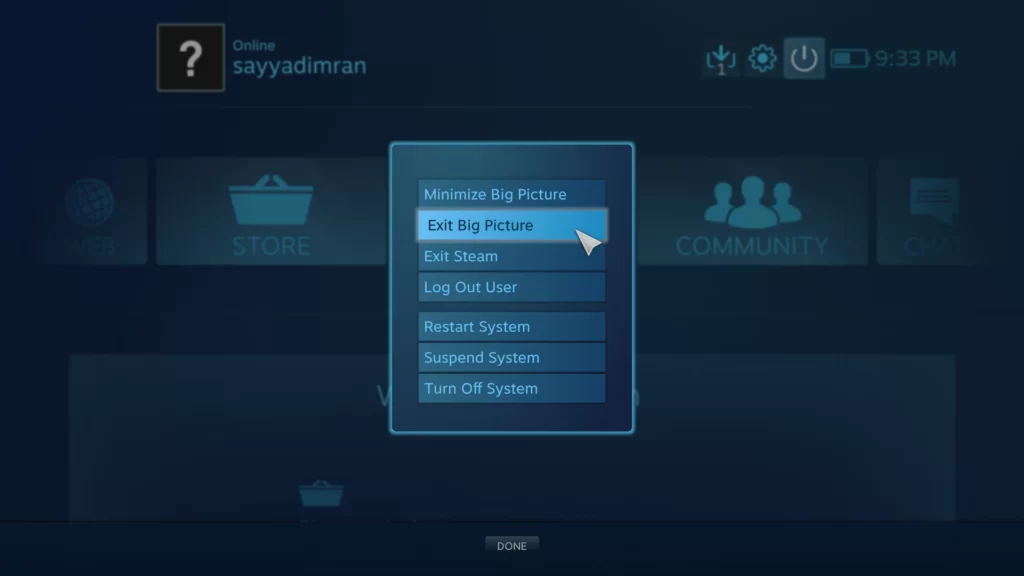 Move your cursor over the "Exit" button in the top right of your display screen.
Now press the "A" button on your controller (click "Exit Big Picture" on PC).
In this way, you can fix this issue.