Steam, a popular digital platform for purchasing PC games, offers a fantastic feature that allows users to request a refund for a game, even if they have played it. This refund policy is especially useful if you encounter issues with the game, find it buggy, or if it simply doesn't live up to your expectations. However, there are some requirements and guidelines to keep in mind.
In this article, we'll walk you through the process of how to refund a game on Steam and get your money back.
Steam's Refund Policy Requirements
Before attempting to request a refund on Steam, it's essential to understand the platform's refund policy requirements. Generally, you can request a refund for any game you bought on Steam as long as:
You purchased the game less than 14 days ago.
You have played the game for less than two hours.
It's important to note that attempting to refund games that you purchased several years ago or have extensively played beyond the two-hour limit won't be successful. Such games will remain a permanent part of your Steam library.
However, there are exceptions, and Steam may still consider your request based on specific reasons. The platform exercises discretion in certain cases, depending on the circumstances.
How to Request a Refund for a Game on Steam
Requesting a refund on Steam is a straightforward process. Just follow these steps:
Open Steam and click on the "Help" menu at the top left of the program.
Click on "Steam Support."

Click on "Purchases" to see the games you have purchased
Alternatively, you can directly locate the game you want to refund under "Recent Products" or click on "Games and Software Etc" to view more games.
Select the game you want to refund.

Click on the "I would like a refund" option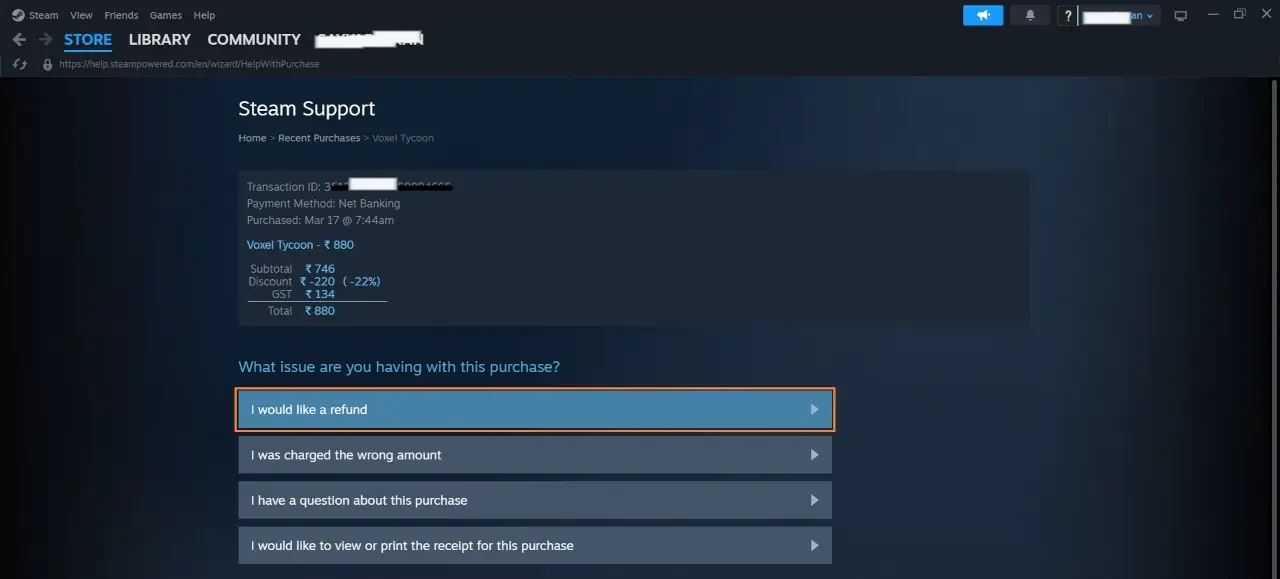 Select the refund method (wallet or method you used to do payment)
Choose the reason for requesting a refund from the provided options with a note.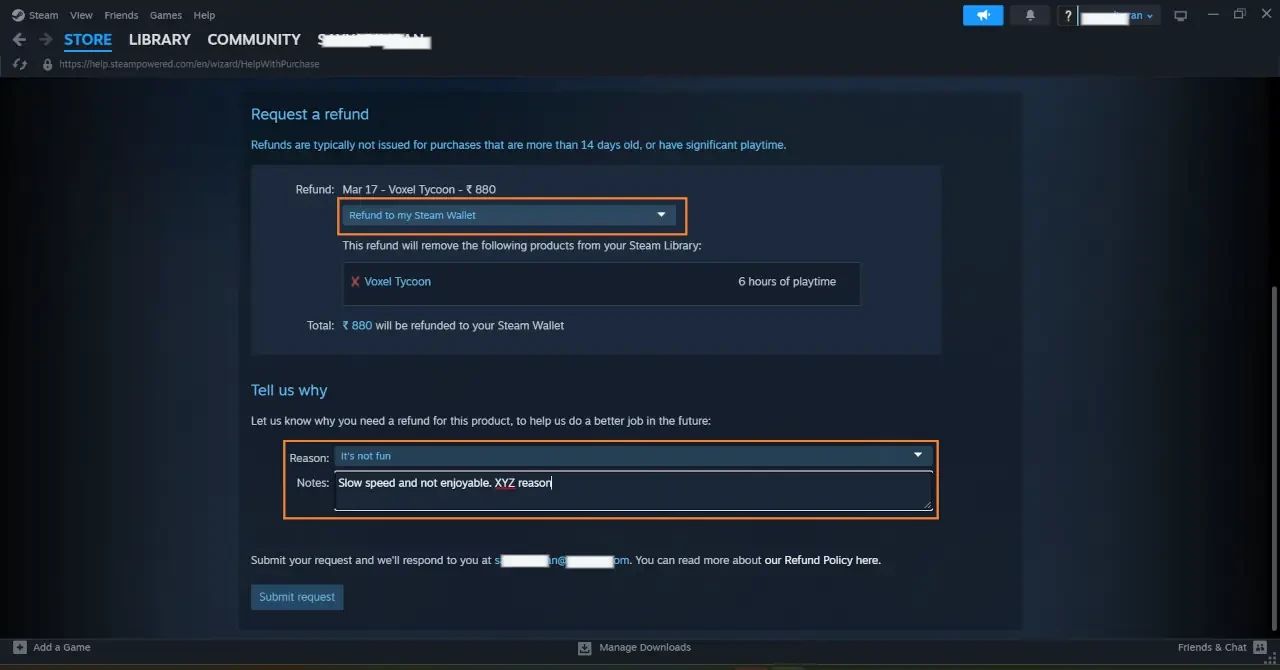 Click on "Submit a request"
Available Reasons for Refund
When selecting the reason for the refund, you'll find several options, including:
Gameplay or technical issues
Missing DLC or bonus content
Trouble with retail CD key
Game not meeting expectations
Accidental purchase
Permanent removal from account
Among these reasons, issues related to gameplay, technical problems, accidental purchases, and unmet expectations are often the most likely to receive a refund.
Additionally, if you have the opportunity to explain why you are requesting a refund, it's advisable to do so, especially if your concerns involve legitimate complaints about bugs or other issues that other players might have encountered as well.
Requesting a Steam Refund with Care
While Steam is generally accommodating with its refund policy, repeatedly requesting refunds or abusing the system may lead to your right to ask for refunds being revoked. Additionally, using the refund system to speedrun games and then asking for a refund could also result in losing the privilege to refund games in the future. Therefore, it's crucial to use the refund option responsibly and genuinely.
Refunding DLC and In-Game Content
Apart from games, Steam's refund policy extends to other items, such as downloadable content (DLC) and in-game items. For DLC, you have a 14-day window to request a refund, provided you haven't played the game related to the DLC for more than two hours since purchasing it. However, if the DLC significantly alters the game in an irreversible way, it may not be eligible for a refund.
Regarding in-game content, the rules differ depending on whether the game is developed by Valve or another developer. Generally, for Valve-developed games, you can request a refund on in-game purchases within 48 hours of purchase, as long as the content remains unmodified, unused, or untransferred. For games from other developers, the policies may vary.
Refunding Gifted Games
If a friend has gifted you a game on Steam, you can also request a refund for it, provided you meet the standard requirements (i.e., played for less than two hours and within 14 days of purchase). When you request a refund on a gifted game, the funds will be returned to the original purchaser's account once the refund is processed.
Refunding During Discounted Sales
Steam's refund policy is also flexible during sale periods. If you bought a game shortly before a Steam sale and later find it significantly discounted, don't worry. As long as you meet the usual refund requirements, you can request a refund for the full price of the game you purchased and then repurchase it at the discounted price.
Requesting a Refund from Games Purchased Elsewhere
Steam allows users to redeem codes purchased from other sites, like Green Man Gaming, Humble Bundle, Fanatical, etc., to add games to their Steam library. However, if you need a refund for a game purchased through such sites, you'll have to contact the relevant site's customer support for assistance. Steam's refund policy only applies to games directly purchased from the Steam platform.
Steam's refund policy offers users a convenient option to request refunds for games that don't meet their expectations or suffer from technical issues. By following the guidelines and being responsible in using the refund system, you can easily get your money back for eligible purchases. Remember to act within 14 days of purchase and not exceed the two-hour gameplay limit to maximize your chances of a successful refund. Happy gaming!