Invoices can be easily prepared with templates. You just have to fill or replace editable information fields in the template file. This free pdf invoice template file will allow you to quickly fill and print invoices on the go. Before going for the download option, first, we will see how PDF templates can be very helpful in your business.
What Is an Invoice?
An invoice is a printed or digital document given to the purchaser by the seller to collect payment. Purchaser pays amount against billed Invoice. The invoice includes the total cost of the sold products or served service. Tax invoices include taxes in actual price. The description of product or service, quantity, and terms of payment is mentioned in the Invoice. Generally, the invoice should include the following details,
Sellers and Buyers business name & address (in details)
Billed and Tobe Shipped Consignee name & address (if different)
Item description, quantity and unit price
Calculated tax
Summary/ Total of bill amount
Payment terms
Previously invoices were only handwritten, then businesses started using printed Invoices. Today invoices are being generated electronically and they are being sent over emails. Many startups and small businesses are using excel invoices. Some are using editable pdf invoice templates to make their work easy and faster.
What is PDF Invoice Template?
PDF invoices are PDF files with editable fields. Only those fields are editable which are required in the invoice. It is very easy to create Invoices in such away. The benefit of using pdf invoices is that you don't have to buy invoicing software and it doesn't need any extra technical knowledge to fill templates other than typing. But it is a difficult and time taking task to retrieve old invoices.
How can you create a PDF invoice template?
You can create a PDF invoice using online tools such as pdfFiller. You just have to drag and drop a scanned copy of the invoice or non-editable blank invoice. Then you can add editable fields to that file in the online tool. Lates finalized files can be downloaded.
A better way to get an invoice template is using a readymade free pdf invoice template. Wise.com has uploaded such templates on their site.
It has the following features,
Company logo support
Support upto 8 items
Tax calculation
Company details in footer
Place to enter special notes and instructions.
Here are the screenshots of the template,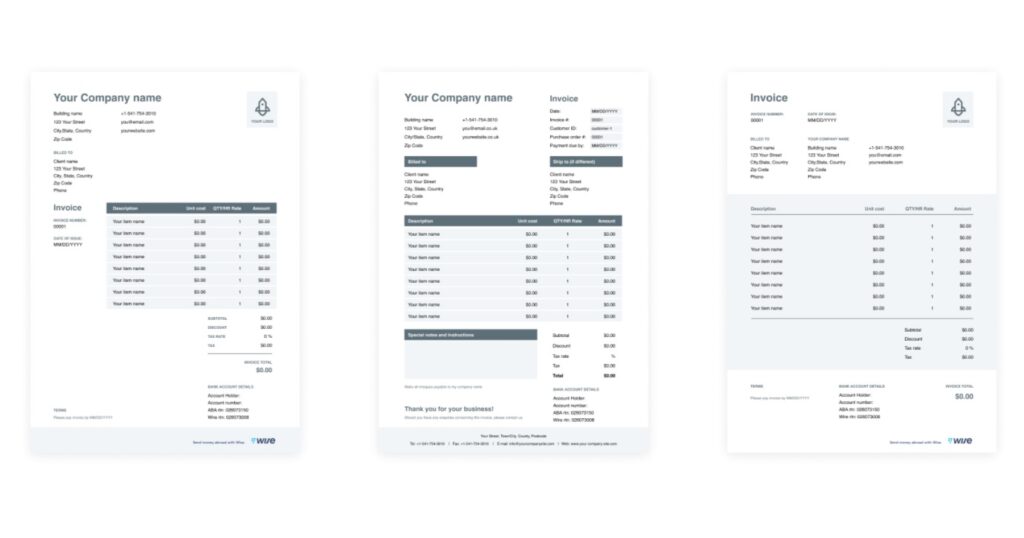 Preview: Free PDF Invoice Template-1
Preview: Free PDF Invoice Template-2
Preview: Free PDF Invoice Template-3
Conclusion
If you are running a startup business or a small business and want to save money and time on invoicing. These free downloadable templates from wise.com are for you. It is best alternative to excel or ms word based invoice templates.