Chromebook is chromium operating system-based laptop or tablet. It comes with Linux and Android operating system environment with cloud connectivity. You can say chromium is a version of android customized to work on notebooks. You can install and use apps and software available in the chromium store. Many big brands such as Acer, Asus, Samsung, and HP have already released Chromebook notebooks.
It is built to target students, company employees, and researchers who often work or develop and write ideas. These targeted users need word processing software every day. Without a word processing tool Chromebook is useless. It is definite that Chromebook surely comes with word processing apps. But the question arises in the head of Microsoft word users who are fully addicted to making use of it.
Chromebook with MS Office
Chromebook comes with MS Office document support. All Microsoft Office-generated documents are supported by Chromebook inbuild Google Docs. Goole Docs is a cloud-based word processor tool. It is web-based hence workes efficiently directly in the web browser without any installed local software. Files are can be directly stored & accessed from google drive folders. In this way, all your data stays synced on cloud storage which can be accessed from anywhere from the world.\
However, a huge number of people prefer MS Office suite or Office 365 to get their office work done. Hence such users have lots of questions regarding Chromebook with MS Office. Here we will see such questions which may arise in the mind of MS Office users,
Q1: Can ms office run on chromebook?
MS Office android version can run on Chromebook. Chromebook does not directly support windows based MS Office software. Instead, it has an inbuilt word processor. It has many office files processing apps such as Google docs, Mobile Office. You can directly open word files in Chromebook or you can have your favorite word file editing app.
Integrated Google Docs is one of the main features of Chromebook, so you can directly open ms word files. You will have to learn google docs a little. It is almost similar to the MS Office. You can still download and have the Chromebook/android version of ms office on your device from the play store.
Q2: Can you install ms office on a Chromebook?
Yes, you can install the android version of MS Office on a Chromebook by downloading from the play store. You cant install windows based MS Office suite or Office 365 on a chromium laptop. Remember, this mobile version does not support the full features that are available in the windows version. However, you can perform all basic required tasks in this app.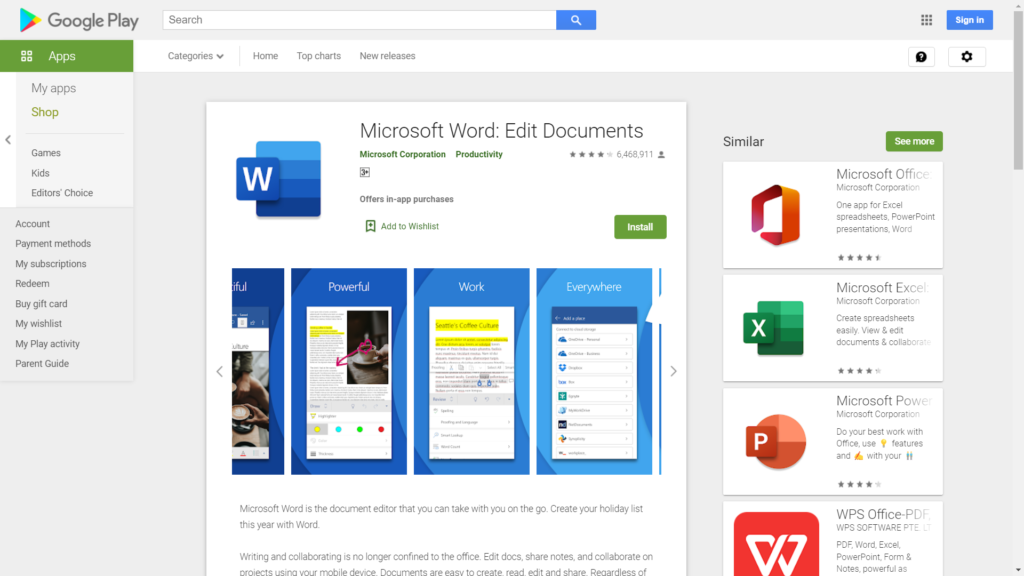 To install MS Office on Chromebook,
Search " MS Office" in play store
Click on "install" button to start installation
Installed app will be available in app list, open it from there
Enter microsoft account sign in credentials or create new
Select template or create new file or open existing file from storage
You will need a Microsoft account to use MS Office on Chromebook. Once you sign in, you will be redirected to the template and recent files page. From there you can choose a template or open an existing file.
Conclusion
Shifting from MS Office to Google Docs is not much difficult but it takes time to get rid of a few questions. Learning the way to use a free web-based word processor can help you shift on Chromebook easily. However, you can still have your loved MS Office app made for the chromium platform easily from the play store.